Hudson club gears up for big Thanksgiving meal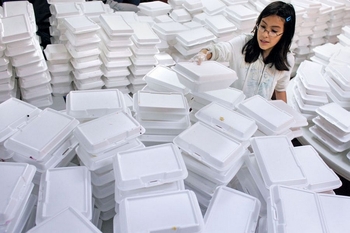 The whole thing got going days, if not weeks, ago, just as it does every November. Then on Wednesday, on the eve of the big show, turkeys accumulated, soon joined by pot after pot of potatoes – white and sweet – and boatloads of gravy, while mountains of bagged dinner rolls awaited individual deployment to their assigned spot on their respective dinner plates.
Indeed, a pre-Thanksgiving visit to the Hudson Fish and Game Club on Pine Road is always an experience worth writing home about. To the uninitiated, the day-long prep scene may appear chaotic, what with eager, apron-clad bodies darting about and dodging scores of boxes, crates and bins seemingly strewn in the most heavily traveled paths.
But no. This is the well-oiled precision machine known as the Hudson Fish and Game Club Thanksgiving Dinner crew, which fires up and runs at top speed for hours on end starting several days before the holiday and going right through until the final turkey dinner is eaten and the last foil-covered plate delivered sometime late on Thanksgiving Day.
That the event features two phases – guests either come to the club for dinner or request delivery – has contributed to its immense popularity.
This marks the 20th anniversary of the tradition, which began when club member Gil Knox befriended several guys who had just returned from a hunting trip and were away from home with nowhere to go for Thanksgiving.
Knox called his wife, Karen, asking if he could bring a couple guys over for dinner. She said OK. A "couple" turned out to be seven.
The Knoxes agreed it would be neat to host Thanksgiving dinner again the following year, but the problem was obvious: space. They thought of the clubhouse. Then the delivery option was added; the rest is history.
The dinner isn't meant only for those with financial problems – anyone who would otherwise be alone is encouraged to come. But still, given the national economic picture, it's not surprising that Karen Knox anticipates record numbers this year. As of Monday, about 850 people had signed up for home delivery, which means that even an average turnout at the club will push the total dinners past the 1,000 mark.
And more customers means more volunteers are needed. "I think we're in pretty good shape," Knox said. "We have an awful lot of people coming to help out.
"There's definitely an increase in (guests) this year."
On Wednesday afternoon, Girl Scout cadets, juniors and brownies from three Hudson troops jumped out of cars, filled their arms with pies and bread and filed into the Fish and Game clubhouse. They're among many area youth and civic groups that take up collections or donate goods to the cause.
Shelley Chase, one of the Scout leaders, watched the blizzard of sweet potato peelings swirling from the blade of volunteer Mike Hardy, one of several Hudson Kiwanis members who come to help each year.
"Imagine feeding all those people," Chase said. "It's amazing how they do it."
"Yes, very impressive," added leader Sarita Croce.
"I'll probably do . . . something like 240 pounds today," Hardy said, turning his attention from peeling to chopping the golden spuds. "One year, my two daughters and I did 400 pounds."
Fish and Game member Richard Serna worked at the white potato station. "This is a lot of chopping," he said, aiming his knife at the seemingly endless queue of freshly-peeled taters rolling his way. "But everything always goes very, very well . . . it's a smoothly run operation, that's for sure.
"All I have to say is thanks to all the people who contribute money and food so we can do this," he added.
For guests who plan to go to the club to eat today, volunteers will begin serving dinner between noon and 12:30. For those who signed up for delivery, the first wave of vehicles is scheduled to leave the club at 11 a.m.