Hudson board relents on kindergarten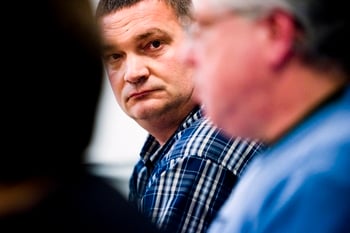 HUDSON – Public kindergarten is on the verge of being signed, sealed and delivered to town in time for the start of the 2009-10 school year.
In successive, unanimous votes at a special meeting Tuesday afternoon, the School Board chose to withdraw its 14-month-old "unfunded mandate" lawsuit against the state and begin the process of getting kindergarten up and running by September.
The meeting, attended by only a dozen or so residents, was called in response to last Friday's superior court ruling in which a judge denied a School District injunction that sought to delay kindergarten while the lawsuit is pending without facing any penalties.
All that's left, superintendent Randy Bell said, is solving the conflict that results from voters' defeat on March 10 of the kindergarten warrant article and Friday's court ruling that effectively orders Hudson to start kindergarten this fall no matter what.
"Our lawyers and the attorney general will be checking with the court on that," Bell said. He and school board chairman Gary Rodgers said after the meeting that the legislative mandate would likely take precedence over the town vote, which would set the stage for kindergarten becoming reality in the fall.
Citing the need for expediency, Bell suggested – and the board approved – moving the board's regular April 6 meeting up to Monday, March 30, with the hopes that kindergarten registration can begin April 1.
Bell said the district's lawyers advised dropping the suit, given the court's ruling that essentially said the district was citing adequacy – or the definition of the term "adequate funding for education" – rather than its claim of the state forcing an "unfunded mandate" upon the district.
"Our attorney informed us that basing our argument on the total concept of adequacy would likely require calling many witnesses and cause a very lengthy trial," Bell said. "She also advised that the likelihood that the plaintiffs (the district) would prevail would be very small . . . her recommendation was that we withdraw from the (lawsuit) process."
Board member Rich Nolan called for community fence-mending and asked for townwide support in brief comments he made after the votes were taken.
"I want to go on record stating that this lawsuit was never about kindergarten," Nolan said. "It was about what we thought was an error in the way the law said that kindergarten must be implemented.
"This isn't the way we wanted it, but it's the way we're going to do it. We seek the support of everyone in moving forward with this . . . all the discussion, debate, and arguing of the past would only get in the way of doing this right."