Hoyle, Tanner designs Carroll bridge replacement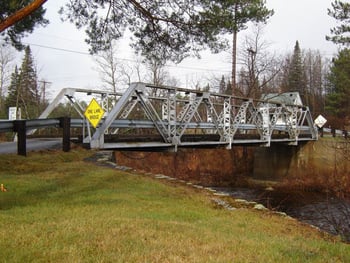 After over 90 years of service, the existing historic steel truss bridge that carries Old Town Road over the Ammonoosuc River in the North Country town of Carroll will be replaced with a new truss.
The new bridge will emulate its predecessor but will be built to meet the current day's demands of heavier vehicles. Also included in the project is the construction of an adjacent bridge structure specifically for recreational use, including snowmobiles and hikers. Both bridges will be galvanized steel truss bridges.
But the existing bridge will not merely disappear. It will be transported south on Route 3 and stored in anticipation of an upcoming adaptive reuse project. The bridge will be stored on blocking and will eventually be rehabilitated for use on a snowmobile trail near the storage location.
"The adaptive reuse concept was looked on very favorably by the New Hampshire Division of Historic Resources," said project manager Matthew J. Low of the Manchester-based engineering firm of Hoyle, Tanner, which was retained by the town of Carroll to design the project and provide construction contract administration and construction engineering services.
"The unique design of the two bridges for two distinctly different uses was important to the town. We worked with town officials to come up with the concept, and we are all excited about getting it completed," said Low.
Construction of the estimated $800,000 project is anticipated to begin in mid- to late-spring, contingent upon the town appropriating funding at March town meeting. The project is being administered and 80 percent of the funding is provided through the state Department of Transportation Municipally Managed Bridge Aid Program.