How to decode a wine list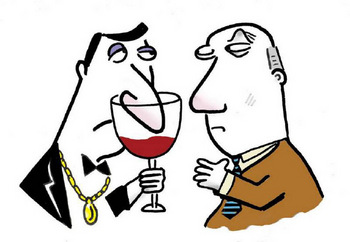 You're at an elegant restaurant. Wanting to make a good impression for your dining companions, you volunteer to order a bottle of wine for the table. The waiter offers you a wine list roughly the size of a dictionary.
Don't panic!
Diversions will help you wind your way through the world of wine lists, so you can choose a great glass or bottle with confidence.
Believe it or not, most wine lists do have some sort of organization, said Andrea Marquis, on-premise wine manager with Martignetti Companies, a fine wine and spirits distributor based in New England.
"One of the more common styles of wine list organization is the progressive style, where wines are listed from lighter to fuller bodied," she said. "Also, similar styles may be grouped together, such as sweeter wines or those that are drier."
Not only does this benefit the diner, a wine list that's organized that way makes it easier to train the waitstaff.
"Turnover in waitstaff is high, and a progressive organization allows restaurants to keep up with training, especially if servers are under 21 and cannot legally taste the wine," said Marquis.
This also assists restaurants with sales. Marquis said imported wines were often separated from domestic wine, which made it difficult for some diners to choose a wine with which they were unfamiliar.
"By grouping wines by varietal and similar styles, diners may feel more adventurous in ordering a wine they are less familiar with because they will have an indication of what it will taste like," she said.
Having an idea of what you might want for your entrée can certainly help. There's nothing wrong with the old rule of thumb of choosing your wine by the meat, i.e. bolder reds with beef, white with poultry or fish.
There's also nothing wrong with breaking that rule. Marquis said an even better rule of thumb is to consider the sauces and seasonings of the dish and pair the wine accordingly.
"The spicier the dish, think of a sweeter wine," said Marquis.
I've heard Riesling is dynamite with chips and salsa.
If you're eating a lighter beef dish, such as a sirloin steak salad, try a lighter red like a Pinot Noir (although longtime readers of this column know I hate Pinot Noir, so I'd never order it, but you get the point) or even a full-bodied Chardonnay. A solid, rib-sticking poultry dish, like coq au vin or turkey, I often go with a red like Zinfandel.
Rich, savory sauces cry for something like Sauvignon Blanc — its bright acid and herbaceous, citrusy flavors will cut through the richness to make each bite mouthwatering. Sparkling wines and Champagne can't be beat here.
Marquis said many restaurants also build their lists around great values for the price.
In New Hampshire, liquor prices are controlled by the state, she said, so that $15 bottle of wine the restaurant buys at the state liquor store is the same one you buy.
"Wines that are around $40 a bottle or less at cost are about double on the wine list. Wines by the glass run about double the retail bottle price, divided by four, plus 50 cents," noted Marquis.
So, a glass of wine from a bottle that costs $20 will be about $10.50.
This isn't meant to scrutinize a restaurateur, but it might be worth a quick calculation to see if you're being drastically overcharged if you find a price that seems wholly unreasonable.
"Bottles over $50 are generally marked up something less than double," said Marquis.
When ordering a wine you've never tried, she recommends going with a mid-price point, often where the best wines for the value are priced.
And, if venturing away from the Chardonnay-Merlot rut, you might try thinking small.
"More restaurants are now offering extensive choices by the glass, which is a great way to try new wines," she said. "Eighty percent of wine sold in New Hampshire is sold by the glass."
She said more restaurants are offering wine flights — generally 2-ounce pours of several different wines.
Wine-saving technology is also behind this trend, since it has become much easier to store open bottles of wine for as long as six weeks without affecting the taste.
And what if that wine list really is the size of a Tolstoy novel?
"Generally, the more complicated the wine list, the better trained the waitstaff," said Marquis.
In other words — don't be afraid to ask questions. Servers are there to help you and make your dining experience the best it can be.
In a good establishment, they have attended tastings, have been trained to know what they are serving and can recommend wines to go with your meal at any price range you choose.
And above all, don't be afraid to order what you like. No restaurant deserves your business if the waitstaff sneers at your wine choice — yes, even if it's white zinfandel, which goes pretty darn well with that holiday turkey or veggie chili.