Housing planned for St. Stanislaus Hall site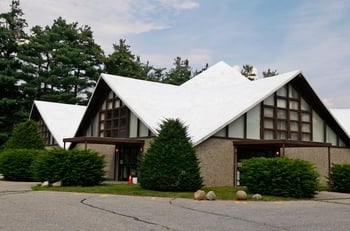 NASHUA – A local developer with a history of tax delinquency is hoping to build two multi-family buildings on the site of St. Stanislaus Hall in Nashua to provide so-called "work force" and middle-income housing.
Vatche Manoukian is asking the Zoning Board of Adjustment to approve three permits to enable the project. The demolition of the church hall, located on a 4.13-acre parcel at 45 Pine Hill Road but no longer in use, is part of the plan.
The zoning board will consider Manoukian's case, which has been filed under the name of Pine Hill Road Real Estate Development LLC, at a meeting scheduled for today at 6:30 p.m. in the City Hall auditorium.
Manoukian needs one permit from the board because the property is zoned R-9, meaning only single-family homes can be built there on lots measuring at least 9,000 square feet.
The other two permits are needed to allow two structures on a single lot and to exceed the maximum number of stories allowed. Two and a half stories are permitted under zoning laws. Manoukian wants to construct two three-story buildings with a total of 52 housing units.
City Treasurer David Fredette said Monday that Manoukian has been delinquent on taxes for about a year on the Pine Hill Road property and owes the city about $38,000.
But Fredette and Gerald Prunier, a lawyer for Manoukian, said that Manoukian's bank has been making payments on the delinquent taxes each month.
"He and his bank have reached an agreement with the city about the payment of the back taxes," Prunier said.
Under the deal, all back taxes on the Pine Hill Road site would have to be paid in full before a building permit is issued for the proposed housing project, Fredette said.Manoukain is also delinquent on taxes for property at 523-525 Broad St., where the Broad Street Country Store and office buildings are located, according to Fredette. He said Manoukian owes $31,000 on that property, but again his bank has been making payments to the city each month.
The bank is also making payments on another $141,000 in back taxes the developer owes on a shopping center at 337 Amherst St., Fredette said.
At one point earlier this year, tax liens totaling more than $200,000 had been placed on more than 50 properties owned by Manoukian, The Telegraph reported in March.
The developer's tax delinquency is an important issue for Ward 1 Alderman Mark Cookson, who represents the Pine Hill Road area, and other officials concerned about his multi-family housing proposal.
That's largely because of a local ordinance that prohibits any resident or corporation that is delinquent on taxes from being even considered for any city permit.
However, based on an opinion issued by former city attorney David Connell in 2006, the city legal department is now questioning the legality of that ordinance as it pertains to zoning permits, Fredette said.
Cookson said there has been some neighborhood concern about the project, particularly the proposed height of the buildings and possible interference with planes landing at nearby Boire Field.