Hottel speaks to Mass. board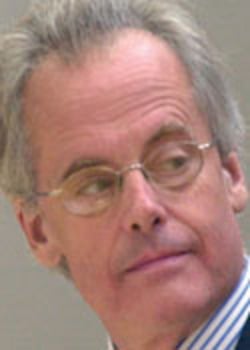 NORTH ANDOVER, Mass. – Interviewing for a new job, Nashua Superintendent Christopher Hottel touted his record of leading the school district through tough times and setting the stage for his successor.
"I think I've put Nashua on a pretty good road," Hottel told members of the North Andover School Committee on Thursday night.
Hottel is one of four finalists to take over the Massachusetts school district, which is roughly one-third the size of Nashua. The school committee is expected to make its decision Monday night.
During his interview, Hottel talked to the five members of the committee about when he first started as acting superintendent in Nashua, after Julia Earl was placed on paid administrative leave.
Hottel explained to the committee that at the time he took the helm, there was a high level of distrust and acrimony between the city and the school department.
Just before taking over, 100 pink slips had been issued to teachers, and then later in the year, the district had a $2 million surplus, he said.
"That just didn't jive," he said. "That leads to aldermen thinking that the school district doesn't know how to manage its budget."
Hottel said the program-based budgeting system he has since implemented is a more transparent and inclusive process that allows for people to know exactly how taxpayer money is being spent.
Although relations have improved, he added that there have still been disputes between the school department and the city, most recently over the teachers contract.
Committee member Christine Allen asked Hottel how he would prepare for the North Andover position if he were chosen.
Hottel said he would first talk with people in the school department and community about what is really going on and what the problems are. It wouldn't be to come in and have a top-down approach, he said.
"There has to be a learning process," he said.
If hired, Hottel would finish out the rest of the school year in Nashua before taking over in North Andover.
Hottel spent nine years in Haverhill before coming to Nashua, where he held various positions, including director of technology. Over his 30 years in education, he has also been in charge of curriculum and humanities, as well as being a Latin teacher.
He told committee members that his diverse background gives him the tools to achieve his next goal – leading North Andover to universal high school graduation and college attendance.
"These are the kinds of things that can be done in a smaller system," he said.
If hired, Hottel would replace interim superintendent James Marini. The district has been through several interim superintendents since Harry Harutunian resigned in 2006.
Hottel was asked about his relationship with the school board in Nashua. He said he has tried to get the board more involved in what is going on the schools through series of panel discussions
The topics have ranged from leveling to parental involvement and have included teachers, administrators and parents.
"That's been a way of building trust and understanding," he said.
Hottel is currently making $150,000. The North Andover job is being advertised at a salary range of $160,000 to $180,000. Hottel has said he has applied to other Massachusetts districts, as well.
Hottel, 62, has said that he wants to end his career in a small Massachusetts district.
Hottel was one of the two finalists to interview Thursday night; in-house candidate Kevin Hutchinson, assistant superintendent in North Andover, went before him.
The other two finalists – Ashland, Mass., Superintendent Richard Hoffman and Orono, Maine, Superintendent Kelly Clenchey – had their interviews Wednesday night.
North Andover's process of interviewing finalists in public is in contrast to what the Nashua Board of Education used in 2005 when it conducted its search to replace Joseph Giuliano.
In Nashua, the names of finalists were kept secret, and the interviews were conducted behind closed doors. It was only after the board had settled on Earl as its choice that her name was made available.
Hottel said he tries to stay in touch with what's going on in the schools by being out in the buildings and holding regular meetings with teachers and parents.
He said he is focused on building leadership and described to committee members a performance-based program instituted in Nashua this year where principals and assistant principals are held to measurable goals.
Those positions all saw significant increases in salary this year, but Hottel said that came with extra responsibility and the expectation that their performance would be measured based on their goals.
Some of the questions from committee members implied that Nashua's central office is staffed beyond what would be expected in North Andover. Barbara Whidden, chairwoman of the committee, asked Hottel about the district's "director of public relations" position.
Hottel said that position is actually the director of grants and community development and oversees the coordination of volunteers and grants.
Whidden said the position was described as a public relations director during her site visit earlier this week.