Hospital turning tons of food into compost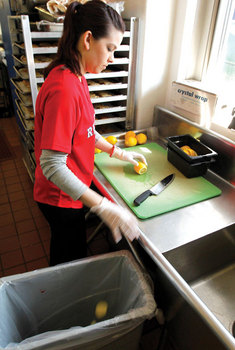 Hospitals are known for having sick people but they contain even more hungry people: In the case of St. Joseph Hospital, 100 beds worth of them, plus hundreds of staffers and volunteers.
The result is lots and lots of food thrown out, which really annoys Mark McKenna – who, among other things, oversees the hospital's trash-disposal budget."We've been recycling since 2009, and this just seemed like the next natural step," said McKenna, director of hospitality services.In November, the hospital began a food-composting system, separating all food scraps during preparation in the kitchen so they can be picked up and turned into natural fertilizer instead of landfill filler."It was maybe a little bit difficult in the beginning, but not any more," said Elena Kharina, a cook, gesturing at a "slim jim," a type of trash can. "We throw all food there."The result is good for the environment – and doesn't hurt the bottom line, McKenna said.Waste that's sent to a Haverhill incinerator costs $78.50 a ton to get rid of, plus a $121 hauling fee; compostable food costs $35 a ton to get rid of, with a $40 hauling fee. This isn't much money in the scheme of the $950,000 food budget, since the hospital generates about 11/2 tons of food waste a month, but every bit helps.McKenna says he worked on the project for nearly a year before it could be started, largely because it was hard finding somebody to pick up the separated food.The food is picked up once a week by New England Solid Waste Consultants Inc. in Rowley, Mass. – the only major hauler for it in the region.Food waste makes up nearly 20 percent of business for the New England Solid Waste, said owner Roy Ferreira Jr.Complicated compostOver in Portsmouth, EcoMovement Consulting & Hauling has picked up food waste from restaurants and other facilities for almost two years, trucking it to Seacoast Farms in Freemont."If you think about traditional hauling, they go from A to B the fastest way they can do it. The logistics in composting is a lot more complicated; you need a lot more education," said EcoMovement co-owner Rian Bedard.That includes educating customers about what can and cannot go into compostable food waste."A big part of what we do is include staff training, signage, continuing education," he said.Behind the shortage of haulers is the real bottleneck – a shortage of places to take food waste so it can be turned into compost.Commercial composting is more complicated that it might seem. Although there are a number of smaller, non-food composters in New Hampshire, no place is licensed by the state Department of Environmental Services to be a "large-scale" system that can accept more than 30 tons of food a day.The state's administrative rules, for example, specify "a minimum of five turnings shall be required during a period of 15 consecutive days when the temperature of the mixture shall not be less than 55ºC (131ºF) at 6 to 8 inches below the surface of the pile," among many other rules.Food composting is even harder and needs more careful handling than leaves or animal waste because of concerns about smell, animals and possible pathogens, and needs to be mixed with yard waste or manure in the proper ratios.New England Solid Waste hauls its waste to Brick End Farms in Raleigh, Mass., which has been composting for decades. If food composting really took off and Brick End Farms couldn't handle more, however, Ferreira says he'd have to turn away customers."That is the biggest problem: There aren't enough facilities to take it; there aren't enough people who want to do it," he said.Part of the reason for the lack of food composting operations has been the decline in farms. However, this decline appears to be changing, boosted by a push for local food and small-scale farms in New Hampshire, leading to the possibility that market forces will make it financiallyworthwhile.At St. Joseph Hospital, McKenna hopes so because he'd like to take the next step – composting the scraps left over on food trays after people eat."When I started, we were doing 18 percent recycling (of all waste by weight). Last time we calculated it was 28 percent, hopefully it's over 30 percent now with the food," McKenna said.David Brooks, science and technology reporter for the Nashua Telegraph, can be reached at 603-594-5831 or dbrooks@nashuatelegraph.com.