Hospital mortality rates similar in region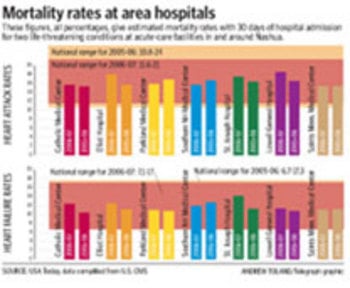 Mortality rates from common life-threatening conditions are similar at hospitals in and around Nashua and to averages across the country, according to data released Tuesday by a federal health-care agency.
The data, a national expansion of information that was available online for New Hampshire's hospitals, gives government estimates of the percentage of Medicare patients who died of heart attack, heart failure and pneumonia – common life-threatening conditions – within 30 days of being admitted at each of the nation's hospitals.
The data is adjusted for such factors as how ill and how poor patients were. This is designed to make the comparison fairer and also tends to remove extreme results. For example, no hospital in the country has heart attack mortality rates that are bad enough to be classified as statistically worse than the U.S. national rate."The primary determinant of whether one survives (a hospital visit) is the baggage one brings into the process – how sick you are and so on," said Dr. William Stephen, vice president of medical affairs for St. Joseph Hospital. "This was designed to compensate for those, which makes me expect that it probably is going to have more uniform results. . . . The approach to disease is becoming more and more uniform on a national level, so you'd kind of expect it to come out even."
The new formula was developed by teams and released by the U.S. Centers for Medicare and Medicaid Services, an agency of the U.S. Department of Health and Human Services.
It studied all deaths of 35 million Medicare beneficiaries that occurred within 30 days of a hospital admission from 2005 through 2007, and factored in the patient mix and how many deaths might be expected in a hospital with that population.
The agency released a broad comparison of such death rates last year, but until now they hadn't released hospital-specific data. The release is part of a long-term trend to make health care more accountable by making its results more transparent.
But officials cautioned that no single piece of information can capture something as complex as the quality of care at a major hospital.
Dr. Stephanie Wolf-Rosenblum, vice president for medical affairs at Southern New Hampshire Medical Center, pointed to a variety of measures that should be considered. They include number of board-certified physicians, success with the Magnet Recognition Program from the American Nurses Credentialing Center, and participation in a program by the Institute for Healthcare Improvement to reduce medical errors.
"The expectation is that the quality of care delivered throughout the state should be excellent, no matter where you are or what hospital you go to," she said. "To me, the most important aspect of all of this is the whole concept of transparency in that we ought to be speaking honestly within institutions, and across the country, about how do we get the right care for the right patient at the right time, every time."
The figures for the nation's death rates, as well as the other data, were released Wednesday both by U.S. Centers for Medicare and Medicaid Services and USA Today, which received advance notice of the data and put together an interactive online feature about it.
No New Hampshire hospitals showed up on the paper's list of the best hospitals in the country, nor did any show up on the list of the worst hospitals in the country.
In the Nashua region, a comparison of the mortality data for acute-care hospitals from Manchester to Lowell, Mass., shows all results falling in the middle of the spread across the country, with no obvious patterns of difference among local facilities.
In Nashua, for example, Southern New Hampshire Medical Center had a better death rate than St. Joseph for heart attack patients in 2006-07, but a worse rate the year before.
Similarly, in Manchester, Catholic Medical Center had a better result with heart failure patients in 2005-06 than Elliot Hospital, but a worse result the following year.
The biggest local difference was seen in pneumonia mortality rates, which covered only one year, in Lowell. Saints Medical Center had a death rate two-thirds higher than its larger neighbor, Lowell General Hospital, in 2006-07.
"It's only one piece of a complex picture," said Stephen, of St. Joseph. "If I said (a person) was blond as opposed to brunette, that tells you something – but I'd have to tell you a lot more to pick him out of a crowd."
Stephen said several groups, private and public, were working on "coming out with kind of rolled-up valuation numbers" of hospital quality that would "make sense to the layman."
Two medical groups, Foundation for Healthy Communities and the Northeast Health Care Quality Foundation, have sponsored a Web site called NHQualityCare.org that shows various measurements for dozens of factors from all the state's 26 acute-care hospitals and compares them to national averages. These include such matters as the percentage of patients who received various medicals at arrival or discharge but do not include death-rate data.
This makes them difficult for laymen to interpret, although Stephen said that even so, they can be valuable for internal analysis by hospitals.
Mortality rates for pneumonia
Here are estimated mortality rates, all percentages, within 30 days of hospital admission for pneumonia at acute-care facilities in and around Nashua.
………………………2006-07
National range………………..7.4-18.1
Catholic Medical Center………….14.3
Elliot Hospital………………………12.2
Parkland Medical Center…………12.9
Southern NH Medical Center…….10.1
St. Joseph Hospital……………….14.3
Lowell General Hospital…………….9.5
Saints Memorial Medical Center…14.8
*data for 2005-06 not available