Home-school parents, kids protest bills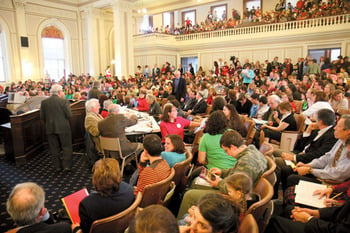 CONCORD – Home-school parents and their children took time away from class Wednesday to travel to the Statehouse and oppose two proposed bills, one of which would require all home-schooled students to take a standardized test each year.
The bill, HB 367 would require additional evaluation of students taught at home each year. Parents would be required to submit a portfolio of work at the end of the year and have students take a standardized test.
Currently, the law gives home-school parents the option between submitting a portfolio and taking a standardized test. The bill would also not allow for parents to administer the standardized test, which they are currently allowed to do.
Another bill, HB 368, would require home-school parents to include, a part of the notification process, a written statement affirming that the home education program will cover all of the subjects required by law.
Currently, home-school parents are only required to notify the school district of their intention to educate their children at home.
The state Department of Education is supporting both of the bills. Wednesday, the House of Representatives Education Committee held hearings on both.
Rep. Judith Day, D-North Hampton, is the only sponsor of the bills. Day said she has been overwhelmed with phone calls since proposing the legislation.
"This was not an attempt to end home schooling," Day said during her testimony.
There were 4,039 home-school students in New Hampshire last year, according to the state Department of Education.
Day said part of her concern was that some parents who may not be aware of home-school regulations. Having parents submit written statements would ensure they have been made aware of the requirements, she said.
In addition, the standardized tests that parents would be able to choose from are "fairly uncumbersome and quite brief," Day said.
The bill would allow parents to choose from the California Achievement Test, the Iowa Tests of Basic Skills or the Stanford test of reading, writing and mathematics.
The tests could still be given in the homes and parents could still monitor administration of the test, she said. Parents would still be required to submit a portfolio of their children's work.
As speakers lined up to testify, most of whom were against the bills, children lined the back of the hall and filled the hall's backrooms. Most of them were busy doing their schoolwork.
One mother was busy changing her infant son's diaper as she listened to the testimony.
The scene was reminiscent of what happened last year when a bill was put forth that would have required home-school parents to submit a curriculum plan to the state. The bill failed.
Prior to the hearing, Michelle Levell, a parent of three home-school children, said her concern is that both of the bills would create unnecessary regulations for home-school parents.
Part of HB 368 includes that the school district will provide home-school parents with copies of the state's laws regarding home-school programs.
Levell said her concern is that school districts are often not clear on what the laws are.
"It puts the SAU in the position of being experts on home schooling," she said.
Levell, who has been home schooling for five years, said she is also concerned about the additional evaluation requirements.
She believes they would be even more rigorous than what is required of public school students and is concerned that it gives the district sole discretion of what constitutes a viable home-school program.
Levell said the laws could be a way of the state trying to take more control over home-school programs.
"Home schooling falls out of their control," she said.
Down two seats from Levell, her youngest son, 11-year-old Zach, was doing his schoolwork, which included a review of his workbook on the U.S. Constitution. "It's been a working civics lesson," Levell said.
Some speakers spoke in favor of the legislation, arguing the state needs more oversight of home education programs.
Phil McCormack, superintendent of the Inter-Lakes School District, said taking on a home-school program means taking on the responsibility of providing a challenging education.
"That does not always happen," he said.
In three recent cases, McCormack said the home-school program was used a means of allowing students to stay out of school until they were old enough to drop out.
McCormack said those cases are in the vast minority, but said he would be in favor of the state increasing its oversight of home education programs to make sure children don't fall through the cracks.
"Whatever we can do in legislation to help safeguard those children whose home schooling . . . isn't working," he said. "We need some type of mechanism to protect those children."
McCormack said he has sometimes had to report parents to the state Department of Education for failing to report information that is required.
"That usually results in me getting the information that I need," he said.
Chris Hamilton, a home-school parent in Brookline, said the additional requirements to the notification law are unnecessary.
"There's no reason to assume that the parent hasn't read the law," said Hamilton, who has been home schooling for 15 years.
Day said she has amended her bills to address some of the concerns raised by parents. For example, the bill regarding evaluation would now read that no single measure should be used to decide whether the home-school program is working, she said.
Still, Deb Wolfe, a home-school parent from Merrimack, has serious concerns about the gray area that the bill seems to leave when it comes to determining whether students are making enough progress.
"It's very subjective," she said. "Gray area is not a good thing in any law."
While Wolfe home schools her two youngest children, her oldest son attends Merrimack High School.