Hollis selectman easily captures seat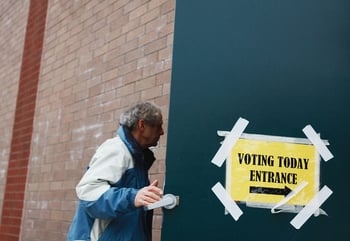 HOLLIS – Incumbent Selectman Peter Band clobbered his two opponents Tuesday, taking 503 votes while neither of his two opponents broke 90 votes for the open one-year seat on the Board of Selectmen.
Dennis Johnson, a 44-year-old newcomer, took 87 votes, while Thomas Stawasz, 63, a state senator from 1995-97, received 80 votes.
Band, 51, who served on the board from 2004-07 and was chairman from 2006-07, was appointed to the board to fill Selectman Mark Johnson's seat.
Johnson resigned last year before moving out of state.
Altogether, 716 of the town's 5,692 voters – about 12.5 percent – showed up at the polls at Hollis/Brookline High School, according to town clerk Nancy Jambard.
Jambard said last year, when the count of registered voters was 5,400, about 890 registered voters cast ballots in the March elections.
"This year, the selectmen's race, the treasurer's contest, and a contest for two seats as cemetery trustee were the only contested town races."
Nancy Bell was elected as a cemetery trustee with 545 votes, while Chris Buzzy took 290 votes and Christopher Stawasz finished third with 176 votes.
In the two-way race for treasurer, a three-year seat, Mark Andrew Kowalski won with 285 votes. His opponent, Paul V. Cain, received 199 votes.
There were no candidates for a two-year term on the budget committee, but write-in candidate Ray Valle was elected with 38 votes.
In the one school contest, incumbent Thomas Enright was elected to a three-year seat on the Hollis/Brookline Cooperative School Board, representing Hollis.
Enright bested newcomer Robert Mann, 378-310.
Voters approved six amendments to the town's zoning ordinance, including one required by a state law that directs communities to make possible affordable, workforce housing.
The law does not require cities and towns to create the affordable housing but instead asks them to provide opportunities for such housing by allowing a higher density of homes in some areas.