Hollis Old Home Days returns with sunny weather, good food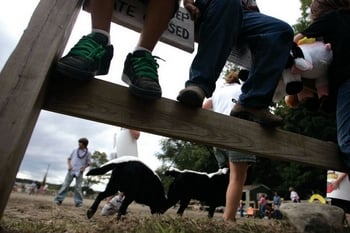 HOLLIS – The Hall family got tired of placing second in the pet parade every year, so this time they stepped up their act.
They brought Sally, a young calf, Billy, a goat, and dressed their dog, Chloe, to look like a chicken. And 5-year-old Colby Hall became Old McDonald, leading his farm animals around.
The family won the best-in-show prize, becoming the talk of this year's Hollis Old Home Days and giving Colby a fun memory for when he grows older.
The event allows the already tight-knit community another opportunity to bond, particularly on a brilliant late-summer day such as Saturday.
Comfortable weather makes hot dogs, lemonade, apple cider and all sorts of baked goods taste better. And things such as pet parades, hot-air balloon rides, cow-patty bingo, band concerts and tractor shows seem even more fun under blue skies.
"It's a chance to come together," Stephanie Hall said after taking a victory lap with the farm animals.
Pat McLeod has lived in town for about 10 years, but this was his family's first Old Home Days. He watched his two children join a larger group of kids in a game of touch football.
"The kids meet their friends and run around and play," McLeod said.
McLeod picked a good year to check out what the big fuss is every September. Last year's Old Home Days were cancelled because there weren't enough volunteers. The new chairman of the event planning committee, Dave Sullivan, started working in earnest with others almost immediately last year to make sure the same didn't happen this year. The two-day event began Friday night."If someone had spoke up (sooner), a lot of people would have stepped up," resident Terri Griffin said of last year's cancellation. But she didn't focus too much on the past because she had some quilts to sell.
Griffin was selling her homemade work while taking her turn selling raffle tickets for the Hannah Dustin Quilt Guild. The prize: a king-size quilt.
If the goal of old home days is to make everyone feel at home, then blacksmith Gary Kalajian made everyone feel old.
Working a coal-fired forge from 1877, Kalajian demonstrated his skills in making elaborate gate hooks.
Kalajian taped the ends of a steel square bar, hammered the metal a bit and dropped it in the 2,400-degree forge for a few moments. He then pulled the metal out, banged it a bit more and plopped it back into the fire, tapping the pedal of the leather blower with his foot.
His craft demonstration drew small crowds throughout the afternoon.
They'd watch a bit of the process and move on, making room for a new bunch of onlookers.
"I try to stay true to the traditional techniques," said Kalajian, a 52-year-old professional from Bradford who also makes a variety of metal hardware.
He added later: "It's the kind of experience, in a sense, that you would say is timeless – the part of the human experience that really is timeless."