Hollis hearing to discuss Town Hall repair amount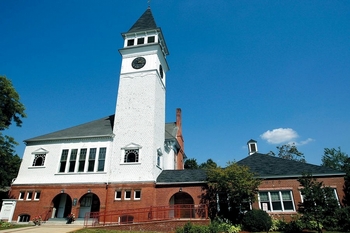 HOLLIS – Voters at Town Meeting in March will likely be asked to approve $850,000 to pay for structural repairs and minor improvements at Town Hall.
The spending request is less than the two options town officials were originally considering – $2.5 million for a full renovation or $1 million for partial repairs.
"The consensus was, we have a need to make it safe," Town Administrator Troy Brown said of the feedback from the community about Town Hall. "However, it's not great timing to propose a project."
Selectmen held a public hearing seeking input from taxpayers on the repair costs. After listening to registered voters, including members of the town's Budget Committee, the request was reduced.
Town officials made the change in response to the deepening recession, which continues to affect growing numbers of families and individuals, including those living in affluent communities such as Hollis.
>>Town Meeting '09<< Brown said selectmen agreed that repairing the clock tower, shoring up the carrying beams in the basement and fixing the roof should take priority. For some time, safety has been an issue, given the building's known structural weaknesses. A structural engineer who examined the Town Hall in July warned that the building posed a risk to those working inside or visiting. The engineer said repair of the rafters would help prevent the potential collapse of the roof due to the weight of snow and ice. He also cited the clock tower and basement beams as critical areas in need of immediate repair, noting that the clock tower could topple in a heavy wind and that the beams, which carry the weight of the entire building, are full of dry rot and cracks. Selectmen are considering a 20-year bond. Their proposal will be presented for further input from voters at the town budget hearing Tuesday, and is likely to appear as a warrant article on the ballot at Town Meeting in March. If taxpayers approve spending $850,000 to make the repairs, they will see an increase on their tax rate of 8 cents per $1,000 of assessed property valuation, Brown said. The owner of a home valued at $400,000 would pay $32 more in taxes next year if the town bonds the cost of the repairs. Brown said in addition to structural repairs, the building needs new windows, exterior siding and insulation. The bonding request, if presented to the voters, would be one of 19 warrant articles to appear on the ballot at the Town Meeting in March.