Hollis/Brookline celebrates 'final chapter' of high school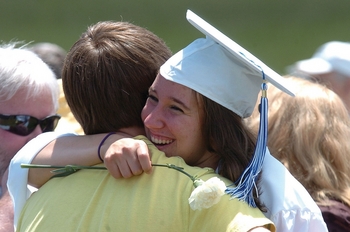 HOLLIS – The sun came out on Saturday morning, a good omen for the Hollis/Brookline High School class of 2009.
White puffs of cottony clouds rose in the blue sky.
And it was warm enough for at least a couple of graduating seniors to make the traditional procession from the high school to the field in their bare feet.
Girls stepped lightly in flip-flops or took cautious steps in high heels.
Mothers, fathers, brothers, sisters, aunts, uncles, cousins and grandparents sat in folding seats facing the outdoor stage at the school.
"This is a truly joyous occasion in all of our lives," Rebecca Moverman, the class president, told her audience in opening remarks following "Pomp and Circumstance," the national anthem and a message from Principal Tim Kelley.
Moverman's observations seemed to strike a chord with classmates and parents.
"Where has the time gone?" she said. "It feels like just last week we were starting middle school."
Recalling the joys and the anxieties of growing up, Moverman encouraged her classmates to celebrate "the final chapter" of their school years while relishing what lies ahead.
"I wish you all the bet of luck, wherever life may take you," she said.
Kelley had a similar message.
"We both arrived in the fall of 2005," Kelley told the seniors. "Your first day was mine, as well."
As principal, Kelley said, he quickly came to see that the school's culture was close and personal: mention a student's first name, and almost everyone would know about whom you were talking.
Kelley, whose daughter is a member of the graduating class, praised the class for its academic, athletic and arts achievements. He said the top 25 percent of the class had GPAs of at least 3.7.
"Be confident that you are prepared for all the world has to offer," he told the graduates.
In her speech, salutatorian Kimberley Glover urged her audience to consider "the power of kindness" to change lives.
"It has become difficult to remain positive when we refer to mankind in our world and we're constantly reminded of all the evil mankind is capable of," she said, adding, "Despite all of the hatred we people show, there are still those who want to love."
Valedictorian Teagan Daly quoted Mark Twain, who said, "I have never let my schooling interfere with my education."
Fortunately, Daly noted, she and her classmates aren't living in a time when education is dry and lifeless the way it was in Twain's day.
"Don't let the end of high school mark the end of your learning," Daly urged.
Likewise, Superintendent Susan Hodgdon called on graduates to seize the day. Quoting from Henry David Thoreau, Hodgdon encouraged graduates to "live in the moment."
"Nothing must be postponed," she quoted. "Find your eternity in each moment."
As the guest speaker, Hollis/Brookline High English teacher Michael Williamson joked with his former students about "payback," given the public speaking assignments he used to assign.
But he ended on a serious note, quoting from Shakespeare' "Hamelt": "To thine own self be true."
"You have a compass in your gut and in your truth," said Williamson, who is retiring this year.
Hattie Bernstein can be reached at 673-3100, ext. 24, or hbernstein@cabinet.com.