Hodes says he did homework on bailout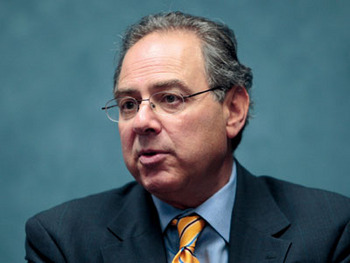 EDITOR'S NOTE: This is the 10th in an occasional series of stories based on interviews with candidates for federal and state office by The Telegraph editorial board.
Before twice voting against the $700 billion Wall Street bailout bill, U.S. Rep. Paul Hodes talked to a score of financial experts, including billionaire businessman George Soros.
Hodes was also briefed on the feedback of constituents and answered phone calls himself, he said Tuesday in an interview with The Telegraph's editorial board. A majority of 2nd Congressional District residents opposed the legislation, he said.
But in the end, the Democrat used his own judgment to cast a dissenting vote, bucking his party's leadership and running counter to a sense of urgency cast by the White House, he said.
>>>N.H. Campaigns 2008
"In the end, I decided what was best for the long-term health of New Hampshire and the nation," Hodes said. "You know I hope I am wrong . . . and that the plan works."
Treasury Secretary Henry Paulson has already tweaked the plan since earning the approval of Congress. Instead of making the purchase of distressed mortgage-related assets the center of the plan, the government will now focus on allocating $250 billion to banks so they can recapitalize and lend again. The government still might buy the troubled assets.
Hodes joined New Hampshire's other Democratic U.S. Rep. Carol Shea-Porter in voting against the bailout bill, in its original three-page form and larger revision.
The freshman legislator said the measure lacked oversight and regulation over the Treasury Department, and took a "top-down" approach to solving the financial crisis. He said the bill should have helped the people suffering: homeowners and small-business owners.
Although the legislation was an "extraordinary exercise in bipartisanship," it was also a product of panic and not enough planning, Hodes said. He added that he felt no pressure from Democratic Party leadership to support the bill.
"I felt a heavy weight with this vote," he said. "It was the most significant two votes of the term."
Hodes appreciates that Paulson has tried a new approach, and hopes government intervention ultimately pushes the economy forward, he said. But the "no" vote was the right thing to do for New Hampshire residents, he said.
Listening to and acting for constituents is the theme of Hodes' campaign as he faces Republican Jennifer Horn, a former radio talk-show host and Telegraph columnist, in the Nov. 4 election.
>>>PAUL HODES<<< In the editorial board interview and on the campaign trail, Hodes has relayed the stories of residents who have been helped by his congressional offices. "I'm very proud we've helped thousands of people on Medicare and Medicaid issues, military issues, Social Security," he said. Hodes also highlighted working on the behalf of Army veteran Chris Howe, who suffered serious injuries after a tank explosion in Iraq and was stifled by government bureaucracy in his attempt to come back home to Newport to rehabilitate. Howe inspired Hodes to write a bill that would create a Veterans Affairs Administration ombudsman to help veterans negotiate red tape and access health benefits, the congressman said. The measure failed in the Senate, but Hodes said he will try to move it again. Howe's story, and Hodes' bill, are the focus of a new television advertisement for Hodes' campaign. Horn has criticized Hodes for siding with Democratic Party leadership 98 percent of the time, a statistic confirmed by congressional voting records. But Hodes pointed to several differences he has with his party that he said demonstrated a willingness to serve New Hampshire first. Those instances include voting against the bailout bill and the Foreign Intelligence Surveillance Act because of civil liberties concerns, and holding gun rights views that are more aligned with Republicans, he said. Asked if government programs would have to be cut to finance the bailout package and the Iraq and Afghanistan wars, Hodes didn't list any. But he said, "We need to make very difficult choices with a very good analysis and a look at the long-term horizon." Any plan needs to consider more than the two-year election cycle, he said. On a larger scale, government must shift its focus to helping the middle class by providing greater tax relief to the working class and closing corporate tax loopholes, Hodes said. Also, subsidies to oil companies must end, he said. As with other Democrats, Hodes stressed investing in alternative energy sources to end oil dependence as a benefit to the environment and national security. He also acknowledged that many politicians avoid telling Americans they need to conserve energy. "We have to drive smaller cars, put on sweaters" and make sure homes are energy efficient, Hodes said. Americans have to invest in a "frugal, waste-not society," he said. On foreign affairs, Hodes said the need is pressing to start a "responsible, sufficient" troop redeployment from Iraq to Afghanistan. Citing Democratic presidential candidate Barack Obama's plan, Hodes said security in Iraq has improved, but the Taliban and al-Qaida have strengthened in Afghanistan. The U.S. needs to work with its allies in routing "extremism" there. He added that none of his constituents talk about the Iraq war anymore and are instead focused on the economy and energy. HODES ON THE ISSUES Here are stances of U.S. Rep. Paul Hodes on several issues: HEALTH CARE: Supports affordable, portable health care for all citizens, and thinks the country needs to have an honest examination of what sort of system it wants.
EDUCATION: Has backed increasing funding of Pell grants and other college tuition-assistance programs, supports tax incentives to help families pay for college, and has argued that No Child Left Behind should be fully funded and revised or repealed.
IMMIGRATION: Wants to strengthen patrols at the U.S.-Mexico border and give immigration officials more intelligence tools. He believes government agencies should better share information to curb illegal immigration.
CAMPAIGN FINANCE: Supported legislation that would ban gifts and meals to legislators.