Hodes hears of economy's local fallout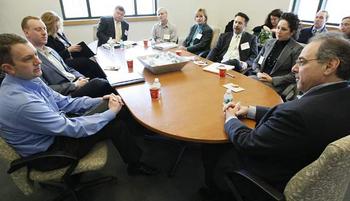 NASHUA – After losing millions of dollars of business to overseas companies, the last thing office manager Mary Kneeland and George Gordon Associates Inc., needed was a massive downturn in the U.S. economy. But that's what the Merrimack-based packaging machinery manufacturer is faced with and why Kneeland spent an hour with Rep. Paul Hodes and other small-business owners Thursday discussing how the tanking economy is affecting "Main Street."
Days after a historic $700 billion economic recovery bill was signed into law, Hodes spent much of Thursday talking to small-business owners, and later with residents, about how the tanking U.S. economy is affecting them. They were two of many similar meetings Hodes held throughout the second district during this week's Congressional recess, he said.
Hodes started Thursday's sessions at Daniel Webster College where he met with the owners of five small businesses ranging from one that is only months old to W.H. Bagshaw, a Nashua-based, family-owned manufacturing business that founded 140 years ago.
George Gordon's troubles began in 2005 when too many customers, faced with their own competitive pressures, began buying machinery from companies overseas, largely China, Kneeland said.
Last year, as fears about the economy grew, sales slowed, and even though there's a lot of interest in their products, many of George Gordon's customers became hesitant to pull the trigger on major purchases, Kneeland said. That was a common concern for the business owners that gathered Thursday.
"Now, the way the economy is, I think people are afraid of what they're going to do and what's going to happen," she said.
The combination has seen the company's sales plummet from $5.6 million in 2006 to less than $2 million annually and forced it to lay off 39 of its 52 employees, Kneeland said.
Hodes said those struggles are exactly what he's trying to learn about during a week of statewide conversations about how the economy is affecting New Hampshire on the ground floor.
"To say times are tough is an understatement," Hodes said. The economy is "a mess, a mess we have to straighten out."
He described the current economic situation as a "watershed moment" for a nation that's been "addicted to debt" for decades. Aside from propping up massive employers in the short term, it's important that old economic principals, including saving more and borrowing less, are reintroduced to prevent similar collapses in the future, he said.
"We've got to get a floor under this thing and get back to prudent business practices," he said.
The evening meeting with southern New Hampshire residents who have contacted Hodes' office for help with their own struggles was emotionally charged, with tears and visible frustration from people faced with losing their homes.
Hodes heard tales of several families' seemingly impossible struggles in the face of layoffs, bankruptcies and foreclosures.
Bob Mack, the city welfare officer, attended the later meeting and said his office has seen an influx of new visitors: normally self-sufficient homeowners who are at the end of their rope and, for the first time, in need of public assistance. It's a clientele that Mack's colleagues in other parts of the state are also seeing more of, he said.
"They don't know what to do. It's coming to a head," Mack said of the new type of clients. "It's a big demand. It's people in situations we're not used to seeing."
While staffers scribbled notes in the background, Hodes tried to ease some minds by explaining some of the newer programs Congress has passed in recent weeks, including billions for job retention and recovery to states, bank bailouts that should restart lending and programs to ward off foreclosures for people struggling with mortgages worth more than their house.
He cautioned, though, that an economic hole this big won't be climbed out of quickly.
"It's going to take a while, and it's going to be slower than previous recoveries," Hodes said.
Several people at the afternoon session, including Hodes, bemoaned the credit freeze that makes it difficult or impossible for businesses to continue doing business.
But as several owners pointed out, smaller community banks, similar to small-business owners, haven't made the mistakes, i.e., thousands of subprime mortgages, their giant brethren have, and are, still lending money. Encouraging prudent business practices instead of bailing out bad business models is key, they said.
"You can't keep encouraging bad business models," said Steve Singlar, owner of Single Digit, a company that provides WiFi hotspots in public spaces like hotels. "The same system we have today and shuffling a few pieces around doesn't make a lot of sense to me."
"And that's Wall Street today," chimed in Steve Falconer, owner of Lender Sentinel, a Derry-based software firm that designs early-warning programs to protect the portfolios of community banks. "We're going to build them up so they can do it to us again?"