Higher ingredient costs leave brewers hopping mad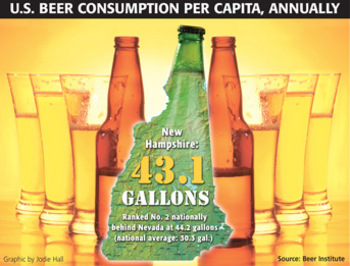 New Hampshire's smaller breweries are facing a triple threat of raw material shortages, increasing competition and increased production costs, which are
converging into one heady problem — beer has become much more expensive to make.
Hops, a key component in beer that often imparts a brew's distinct bitterness, have become the diamonds of the brewing world. Its relative rareness in today's market is actually due to a glut on the market several years ago, according to Peter Egelston, co-owner of Smuttynose Brewery and Portsmouth Brew Pub both in Portsmouth.
"Hops are only grown in a few places, including the Pacific Northwest of the U.S.," said Egelston. "Overproduction through the 1990s and the early 2000s has largely led to a market correction."
Egelston said that as hop inventories grew, much of the acreage that was once used to grow hops was converted for other uses, including development.
"Now that excess has been used up and what acreage is planted can't meet the demand," he said.
Egelston, who brews over 15,000 barrels of beer a year at Smuttynose, said his hop prices have doubled in the last year.
According to the U.S. Department of Agriculture, the average price per pound of hops in 2006 (the most recent data available) was $2.06, up 10 percent from $1.87 from 2000.
But a more revealing statistic covers semiannual hop inventory levels. The USDA said the Sept. 1, 2007, hop inventory totaled 47.0 million pounds, down 4 percent from Sept. 1, 2006, and 22 percent below just two years ago. This is the lowest Sept. 1 inventory since 1981, when stocks were 34.4 million pounds.
Hop prices have escalated at the Flying Goose Brew Pub well, said Kevin Kerner, who has been brewmaster at the New London brew pub for six years.
Making about 14 barrels a week during the summer peak production months for a total of 17 different brews, Kerner said he makes less than some microbreweries, but the impact has been huge on his operation.
"I've had to go back to the drawing board and change recipes," he said. "This is very difficult because consistency is paramount. Right now, however, it's just something we can't avoid."
An ethanol connection?
The shortage — and inherent higher price — of hops is not the only concern of
smaller brewers. Barley malt prices also have increased dramatically, due to global competition.
In fact, said Kerner, because of the price rises, he's been forced to change his winter barley wine recipe.
"Barley wine uses three times the amount of barley and hops than beer," he said.
And he's had to switch his malt distributor from one in Wisconsin to one in Rhode Island to deal with the commodity issues.
Egelston said his malt costs have risen some 50 percent, and that this is due to direct competition from brewers, not only in the United States but Asia as well.
"With the weak dollar and economic growth in China and India, people in those countries are buying all kinds of consumer goods, including beer," he said. "Their own brewers are now competing with American brewers for hops and barley malt, resulting in higher prices."
According to the USDA, the national average price for barley in October was $4.98 a bushel, up 75 percent from $2.84 in October 2006.
Kerner said the increasing number of craft brewers in the United States also has had an effect on prices. "There is just more demand so [hop and barley producers] have upped their prices," he said.
Egelston also speculated on another cause — so-called "green" fuel from corn.
"More and more land is being converted to growing corn for ethanol," he said. "Brewers, and even bakers, are the canaries in the coal mine for these commodities."
Barley is being used as feed crop for cattle as more corn is used for ethanol, which also adds to an increase in barley prices.
Egelston said that while the higher prices might prompt some American growers to convert more land back to growing hops and barley, any easing of the market will take time.
"It takes about three years for a hop field to mature to full production," he said.
Indeed, some 31,000 acres were planted for hops in Washington, Oregon and Idaho — 6 percent more than the 2006 crop of 29,365 acres and 5 percent more than the 2005 crop of 29,463 acres, but prices have yet to level off.
Washington accounts for 73 percent of the U.S. total hops crop, with Oregon at 17 percent and Idaho at 10 percent.
Large commercial breweries often contract with farmers to grow hops and barley for them, damping down price swings for these crops. But they, too, face rising prices for other commodities, such as paper and aluminum for packaging and transportation costs.
Michael J. Owens, vice president of business operations for Anheuser-Busch Inc., which has a brewery in Merrimack, said by e-mail, "Like all brewers, we are experiencing cost increases due to the rising prices of brewing ingredients. This is just one of the many factors that contribute to beer costs. While we cannot disclose details of pricing, we feel it is important to offer competitive prices to growers for their crops.
"Competing crops and weather conditions have impacted the global supply of brewing materials, however, our inventory management and strategic acquisition programs have positioned us well. We also have aggressive cost savings programs in place throughout the company designed to partially offset rising commodity costs without compromising the quality of our beers."
"We made some minor adjustments due to inflation, but we're not expecting our prices to the consumer to rise much higher," said Kerner, who charges about $4.25 for a pint of beer. "It just wouldn't be fair to charge customers more for essentially the same product."
However, Egelston said he feels it's probably only a matter of time before prices at the stores and restaurants go up.
"You will see price increases," he predicted.