Heated campaigns may be leading to more vandalism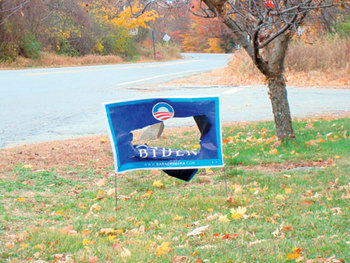 For the last week, Fred Shirley has been on sign patrol.
The Nashua resident has circled the city to check on his charges: 10 large-scale canvas signs showing his choice for president: Barack Obama.
In a heated election that is now down to the wire, Shirley's had to break out his tools more than once to repair some of the signs, which have been knocked down or otherwise tampered with.
"At this point, I'm kind of on call to help if I'm able," Shirley said.
People supporting both Obama and John McCain have reported campaign signs turned upside down, slashed-through and even replaced with one for the other candidate.
An Obama sign on Shady Lane in Nashua was spray-painted last week with a swastika and promptly removed by the Obama campaign, while a John McCain sign was seen bearing a red circle and slash, as in "No McCain."
An election wouldn't be an election without sign tampering, it seems, but it's impossible to tell whether there's more trouble out there this year than in previous elections.
The secretary of state's office has fielded calls about sign vandalism before, said Deputy Secretary of State Dave Scanlon, but there's been nothing this fall to refer to the state attorney general's office, which would prosecute sign theft or vandalism.
"Actually, I'm surprised we haven't had more calls because typically in an election like this one, where everyone seems to be engaged and there's a great deal of interest and emotions are running pretty high in some of the campaigns, things start to happen," Scanlon said.
Local police departments also report low numbers of calls regarding signs sabotage.
"You know, we don't really run into it in presidential elections," said Merrimack Lt. Paul Trepaney. "It's more in heated, local elections when we get people knocking signs down."
Brookline Police Chief Thomas Goulden said he typically hears the opposite complaint: that residents have unwanted signs suddenly popping up on their lawns.
Hollis Sgt. Richard Mello said his department had received four reports of damaged and stolen signs between Oct. 13 and earlier this week. Problem is, there's not much he can do about it.
"Every report that I've reviewed, we have had absolutely no leads," Mello said, adding that signs are generally stolen or vandalized overnight or when homeowners aren't around.
Nashua police Capt. Peter Segal said he wasn't aware of any sign complaints to his department. Even if one is received, he said it's not something police would record because generally, campaigns give signs to supporters, so they are not a monetary loss if they disappear.
"I don't really think it's been an issue in city of Nashua," Segal said.
There are a least a few people who would fervently disagree.
Shirley, the sign fixer, is in a group of about 30 Democrats who pooled $700 to pay for the canvas signs after the Obama campaign ran out of free ones.
Peter Nelson, a group member, has been documenting cases where sign theft or abuse has occurred in Nashua, and plans to report it to police.
"I've never really been this involved," said Nelson, a 20-year resident. "This is a new thing for me. I've been sort of sparked into action by seeing so much happen. So much backlash has invigorated me to do more."
Mike MacKenzie, a registered independent from Mont Vernon, said he noticed Obama signs slashed along Route 101A, his route to work in Merrimack.
"It seems a little bit overboard to me," he said.
MacKenzie, a McCain supporter, then got a personal dose of sign theft when two of his McCain placards were pilfered a couple of weeks ago.
"It was definitely disturbing, I guess, or upsetting," MacKenzie said. "You know, it's from your property."
Vanessa Foley, an Obama supporter from Mont Vernon, also noticed the slashed signs.
"I'm mad," Foley said. "It's breaking the law, and it's just not in the spirit of our country."
Foley was even more upset this past weekend, when she and her young daughter held an Obama sign at the Milford oval. They were greeted to some beeps and cheers, but also to people shouting the words "communist," "socialist" and "terrorist" in their direction.
Beth Ragan, of Nashua, was also a victim in showing her support for McCain.
Ragan said she ran an errand Tuesday at the airport in Manchester and arrived to volunteer at McCain's Nashua campaign headquarters. She suddenly realized her car looked funny.
"Someone ripped off my bumper stickers," Ragan said. "It's sort of taking away my freedom of speech. Do they think if they ripped bumper stickers off my car, it's going to change my mind? It makes me more determined to vote the way I'm going to vote."
Wendy Martin, of Nashua, said she'd never gotten into politics before this season, but promised herself she'd be more active once her kids started school.
Martin, who supports McCain, walked door-to-door in her neighborhood, made calls from headquarters and put signs on her lawn.
Her "McCain/Palin" sign disappeared first, followed by her "McCain for Women" sign a week later.
"It's discouraging, because I don't know what they're doing it for," Martin said, adding that the thefts wouldn't keep her from pounding the pavement in the days leading up to the election.