Healthy dose of support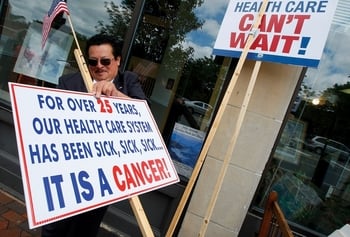 Gil Mendozza, was one of about two dozen people rallying in front of U.S. Sen. Jeanne Shaheen's Main Street, Nashua, office Thursday in support of health-care reform.
"We the people, we are in charge of all the politicians who represent us," said Mendozza.
Ellen Barr of MoveOn.org, the host for the event, said the Nashua rally was one of about 150 rallies across the country Thursday. The group planned to bring a signed petition to Shaheen's office.
According to the petition, it was from "constituents in support of a strong public health insurance option." The petition's statement reads "I strongly believe that Americans should have the choice of a public health insurance option operating alongside private plans. This will give them a better range of choices, make the health-care market more competitive, and keep insurance companies honest."
Barr added the rally was designed "to remind them that people want a public option."