Health pilot eyes a new approach to reimbursement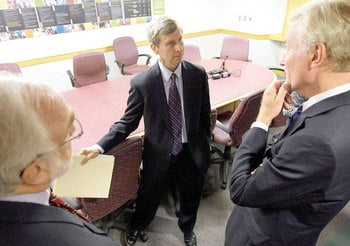 Pay-for-performance may be coming to New Hampshire's health-care industry.Under a five-year pilot program unveiled earlier in July by Gov.John Lynch, health-care providers will be compensated based ontheir quality of care instead of the current fee-for-service model.Five working groups that include over a dozen hospitals and other health-care providers around the state have agreed to take part in the "accountable care organization," or ACO, program.The pilot will use health-care benchmarks that providers must meet in order to receive reimbursement, but just what those benchmarks are and how providers will be compensated have yet to be determined.What is known is that "they will define the long-term plan and the overall transparency," said Heather Staples of the New Hampshire Citizens Initiative and the pilot's facilitator. "We will probably be looking at typical measures – cardiac care and readmission rates, for example – as well as youth and preventative measures."Staples said other areas that could be studied include the use of services, such as in the emergency room, overall health-care costs in the community and information on episodes of care, such as what different services are used. Among those taking part are members of a North Country initiative that will include Littleton Regional Hospital, Ammonoosuc Community Health Services and North Country Home Health and Hospice in Littleton and Cottage Hospital in Woodsville.The Central New Hampshire Health Partnership will include Speare Memorial Hospital, Mid-State Health Center and Pemi-Baker Home Health and Hospice in Plymouth, Genesis Behavioral Health in Laconia and Newfound Area Nursing Association in Bristol. Cheshire Medical Center and Dartmouth-Hitchcock Keene will study populations in the Monadnock Region, Exeter Health Resources will run the pilot on the Seacoast, and Southern New Hampshire Health System in Nashua — composed primarily of Southern New Hampshire Medical Center, Foundation Medical Partners and Advantage Network Physician Hospital Organization — will run the pilot project in southern New Hampshire.Staples said all of the major insurance carriers in the Granite State are participating in the program as well.Prevention: a 'key aspect'Southern New Hampshire Medical Center has been evolving an integrated system for the better part of 20 years, according to Tom Wilhelmsen, chief executive of the 188-bed Nashua hospital. Becoming one of the pilot sites for the new project is something of a next step."We believe ACOs are the future. In reviewing the health-care reform act (Patient Protection and Affordable Care Act), they will be required in 2014," he said. "The sooner we can become involved and participate in the formation, the sooner our patients and our organization will benefit."For Littleton Regional Hospital — a 25-bed critical access hospital that sees a large volume of outpatients, netting revenues of some $65 million — the ACO pilot is an opportunity to increase focus on the North Country's diabetic population."We're looking to keep diabetics out of the hospital and keep the cost per care down," said Warren West, the hospital's chief executive.West said that once the diabetes trending process is running smoothly, the North Country ACO group will look at other key diagnoses in the community.Wilhelmsen said SNHMC and its pilot partners will take a closer look at the area's Medicare population, something he said the health reform act identified as crucial.
"You want to identify chronic disease. That includes diabetes, congestive heart failure, hypertension. We want to keep those populations as healthy as possible. Obesity is another high-risk population," he said, adding that "prevention is one of the key aspects of an ACO."
As important as improving patient care and lowering costs are, another critical element of the ACO pilot is strengthening mechanisms for delivering integrated care across providers.
That opportunity was key, said Littleton's West.
"This is a process and a program treating the whole patient. Why not treat community needs by working in a collaborative way?" he said.
Help for business?
Another focus of the ACO pilot is the use of technology to drive efficiencies.
A priority of several prior presidential administrations, the Obama White House in particular has set aside grant money for health-care technology projects, an area for which Staples said program officials will be seeking help.
"We are also considering the creation of an independent data entity — a reporting engine to report back to communities about their care using claims and care data," she said.
Another goal of the pilot, albeit a future one, is to slow the rising cost of health care for small businesses.
"Ideally, rather than lowering costs, we're hoping to affect the rate of increase, the trend," said Staples. "Rather than small-business owners getting a double-digit trend, hopefully we can get it closer to the rate of increase similar to the consumer price index."
But, she said, health-care providers and business owners shouldn't be the only ones working to decrease health-care costs.
"Consumers will have to learn appropriate use of treatment, in seeking it and receiving it," Staples said. "It takes patients to be active in the care plan as well."
Staples said the program is not a repackaged form of managed care or a capitation formula —a practice in which an insurer reimburses a provider for a specified dollar amount, for a given time period, to treat patients. Capitation led some providers to offer less care or only see a certain number of patients covered by that insurer.
"We will not be withholding services at all," she said. "We will be looking instead on integrating clinical operations, focusing on appropriate delivery."
But just how – and more importantly, how much — providers will be reimbursed is still a question.
"We will use the current fee-for-service method for now, then establish a global budget across all carriers for a community," said Staples.
In fact, with more efficient care leading to fewer trips to the emergency room and fewer in-patient admissions, the providers might actually lose money in the initial phase.
"I'm not convinced we will see an ROI," said West. "I am convinced it is the right thing to do for the community. In time, by saving the system money, and when we quantify the savings from all the reduced medical needs, in theory, a portion of that shared savings will come back to the hospital."
But right now, West said, that's a big unknown.
"You will never have all the answers until you ask the questions. We have great partners, and I am certain, after five years, we'll have some answers," said West.
Staples said a July 1, 2011, start is expected for reimbursements under the new method.
"The systems that volunteered are very excited to be a part of this pilot," said Staples. "It might mean less money in the short term, but greater quality and less costs in the future through efficient delivery of care."Cindy Kibbe can be reached at ckibbe@nhbr.com.