Hate to separate the recycling? Well, it's about to get easier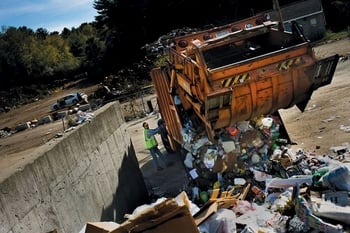 NASHUA – Don't let the big orange trucks fool you. The city does recycle. Really.
City Hall has received more than a few phone calls from residents asking why they should bother separating glass, cans and paper when all the stuff is thrown into a trash truck.
When the trucks come to pick up recyclable material, they only look like trash trucks, according to Sally Hyland, the city's recycling coordinator.
Residents who called to query the city hadn't noticed or seen the large, magnetic recycling signs stuck on the side of trucks, Hyland said.
But those residents are right about one thing: All the glass, cans and paper, whether separated or not, wind up in the same place, she said.
"By mid-April, we were all single stream," Hyland said.
Single-stream recycling means the city collects all the stuff together, and the vendor separates it out, she explained.
That stuff includes mixed paper (cardboard, cereal boxes, etc.), shredded paper, glass bottles and jars, metal cans, No. 1 and 2 plastic containers.
Such recyclable plastic is marked with a triangle and a number at the bottom. Types include milk and water jugs, soda bottles, laundry detergent and even plastic peanut butter jars, Hyland said.
Not a lot of residents know yet the city does single-stream recycling, Hyland said.
"We're kind of easing into it," she said.
"The value of single stream is you can get more material and you can get more people to participate in recycling because it's easy," Hyland said.
For example, the percentage of households in Goffstown that recycle increased from 17 to more than 30 percent when the town switched to single stream, Hyland said.
Further north, the trash cooperative that serves 27 municipalities in the Concord area wants to build a $13 million recycling center in the capital city to handle single-stream material. It would need at least 25,000 tons of recyclables per year to succeed, so material from Nashua and other cities would be welcome.
In Nashua, "we're very anxious to get going full bore with (single-stream)," said Hyland.
To do that, the city needs to provide residents with new carts. The single-stream carts are larger but easier to wheel to the curbside, Hyland said.
The vendor that receives and separates the recyclable material is Integrated Paper Recyclers. The company ships the paper to a mill in Fitchburg, Mass., while the other materials are shipped elsewhere.
Next fiscal year, landfill officials are planning to purchase three new trucks. The trucks would cost about $200,000 each and paid through money set aside in capital reserve accounts. The two orange packer trucks the city now uses have a split body set up for the dual-stream recycling the city has employed for the past five years, Hyland said.