Hatchery hopes 5m shad make sea change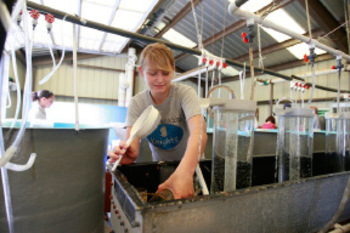 When it comes to fish restoration in New England, salmon have been the poster child for so long that it's easy to forget there are other species facing the same problems.
The federal fish hatchery in Nashua has more than 5 million reasons not to forget.
That's how many baby shad – "fry" in aquatic lingo – they are trucking out this year to be stocked. About 4 million are going into the Charles River in Boston and about 1.2 million to the Merrimack River, north of Concord.
It's a welcome sign of success for the hatchery, one of a handful in the country that does shad stocking on such a scale.
It's also welcome for the American shad, one of the Northeast's iconic "anadromous" fish – those that, like salmon, lay eggs and grow in fresh water, but mate and live as adults in the ocean.
All such species have suffered from dams, pollution and fishing. The American shad isn't doing as badly as the Atlantic salmon, which has been listed as endangered, but it isn't doing well, either.
"We certainly don't want to see the American shad be listed, too," said Kyle Flanery, hatchery manager and one of four full-time employees at the Broad Street facility, opposite the Nashua Mall.
This year's huge egg production is by 240 adult shad – "brood stock" – that were plucked out of the Merrimack River just upstream of the Essex Dam in Lowell, Mass., and now spend their lives circling in a pair of gigantic, 3,000-gallon tanks.
With any luck, their resulting offspring, the fry, will thrive in New Hampshire headwaters; head down to the ocean next year (running the gamut of big, hungry bass that fill the Merrimack River); and grow big in the ocean (despite commercial fishing, warming seas and physical changes caused by acid rain in our streams that delay their adaptation to salt water). As mature adults, they'll begin the journey back upstream, making it around the big dams at Lawrence and Lowell, Mass., and Manchester, and finally laying eggs to start the process over.
This year's shad egg production is particularly welcome because the past two years were disappointing, said Claudia Ostaudelafont, a biologist working for the U.S. Fish and Wildlife Service at the hatchery.
For a time earlier this summer, the shad were spewing out ("broadcasting" is the proper term) so many eggs, which are so tiny that can hardly be seen, that they filled 10 2-liter jars daily. That's half a million eggs, every day.
Keeping up with that production has been a 2-4/7 job at the hatchery for a couple of months.
"Shad develop so fast we have to move much more quickly. Salmon, they give us time," said Ostaudelafont.
The reasons for the improved production demonstrate the complexity of re-establishing wild fish, which is partly science, partly art and partly luck.
Tweaking the process over the past four years has given the operation, located in one end of a long metal shed, something of a jury-rigged air to the laymen's eyes. Hundreds of gallons of water a minute circulation through a system of PVC pipes and plastic tanks, sometimes held up by big plastic ties.
This allows processes as simple as sprinkling fish food to those as complicated as using ultraviolet light to control disease.
One simple-sounding change this year was painting the inside of the 3,000-gallon tanks black, to help calm the adult shad as they circle endlessly.
"They are a very skittish fish," said Flanery.
The shad, which weigh up to 4 pounds and would made any fisherman's mouth water, release their eggs into the water of these tanks. The eggs are sucked through filters into what looks like a cut-rate, plastic Jacuzzi that is full of "bioballs," weirdly shaped little plastic tidbits on which bacteria grow to help keep the eggs clean.
After a few days they hatch out into fry, which are so tiny they look more like mosquito larvae than fish. These are fed with a mix of dry food and brine shrimp (better known to some of us as "sea monkeys") for a few more days, marked with a yellow fluorescent dye that shows up on their earbones, so they can be identified if they ever return fully grown, then trucked out and placed in rivers.
If this shad success continues, it will inevitably raise thoughts about extending the hatchery support system to New England's other struggling anadromous fish species.
Alewife and blueback herring are the obvious candidates, but their eggs are sticky, unlike the loose-flowing eggs of the shad and salmon, which would require a trial-and-effort redesign of the collection system.
Then there are eels, which live backwards, so to speak: They spawn in salt water and live in fresh water. This makes it particularly unclear how a hatchery program could help them, said Joe McKeon, coordinator for the Central New England Fisheries Resource Office.
Hanging over the head of all this is the lack of success in getting salmon back in New England's rivers.
A quarter-century of effort has done nothing to increase the number of adults returning up the Merrimack River, and the same problem exists in other rivers: Last month, Atlantic salmon in Maine were listed as an endangered species.
Some worry the oceans have gotten so hostile for anadromous fish like shad and salmon that it almost doesn't matter what happens in rivers and streams.
"Marine survival is consistently the biggest issue," Flanery agreed. "But we need to improve matters in freshwater, too."
Success also helps the hatchery, which like many government operations has faced money concerns. A 2005 cutback in federal funds led to concern that it might be shut down, drawing protests from fishermen's groups, and that was before the economy went into the doldrums.
Above and beyond the environmental benefits of shad restoration, pointing to the resurgence of a species that once filled New England's rivers would give the hatchery more protection against future cutbacks.

Returning Shad and Salmon at a Glance


This chart shows the number of returning fish caught at the fish ladder at the Essex Dam in Lawrence, Mass., the first dam on the Merrimack River. While the number of shad returning each year is far higher than the number of salmon, it remains erratic and below officials' hopes. Shad should begin to return upstream about three years after they have been released into rivers as small fish, or fry.
| | | |
| --- | --- | --- |
| YEAR | SHAD | SALMON |
| 1983 | 5,629 | 114 |
| 1984 | 5,497 | 115 |
| 1985 | 12,793 | 213 |
| 1986 | 18,173 | 103 |
| 1987 | 16,909 | 139 |
| 1988 | 12,359 | 65 |
| 1989 | 7,875 | 84 |
| 1990 | 6,013 | 248 |
| 1991 | 16,098 | 332 |
| 1992 | 20,796 | 199 |
| 1993 | 8,599 | 61 |
| 1994 | 4,349 | 21 |
| 1995 | 13,861 | 34 |
| 1996 | 11,322 | 76 |
| 1997 | 22,661 | 71 |
| 1998 | 27,891 | 123 |
| 1999 | 56,461 | 185 |
| 2000 | 72,800 | 82 |
| 2001 | 76,717 | 83 |
| 2002 | 54,586 | 56 |
| 2003 | 55,620 | 147 |
| 2004 | 36,593 | 129 |
| 2005 | 6,382 | 34 |
| 2006 | 1,205 | 91 |
| 2007 | 15,876 | 74 |
| 2008 | 25,116 | 119 |
| 2009 | 23,199 | 78 (through July 16) |
*River Herring refers collectively to two fish species: blueback herring and alewife.Source: U.S. Fish and Wildlife Service, www.fws.gov/r5cneafp/returns.htm Click here for Multimedia Coverage.