Hard working crews praised at Hampshire Hills event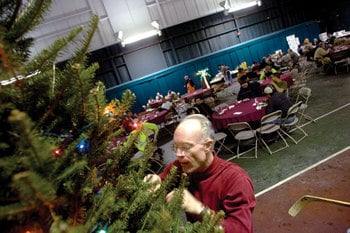 Cookies and Christmas carolers awaited crews who have been working to restore power to southern New Hampshire, when they returned to Hampshire Hills Sports and Fitness Club to eat and sleep Sunday night.
Roughly 250 electric and tree company workers, some from places as distant as Maryland and Canada, have been staying at the club when they finish their shifts, which can be as long as 15 hours.
Hollis resident John Lumbard, who plays indoor soccer at Hampshire Hills, organized volunteers to bring the workers special deserts and choir members from of his church, the Hollis Congregational Church, to sing carols.
"Somebody has to say thank you to those guys," Lumbard said. "It's cold out there."
As of Sunday, crews had restored power to nearly 95 percent of Public Service of New Hampshire customers affected by the ice storm, since outages peaked at 322,000 on Dec. 12.
Since the height of the storm, service has been restored to more than 305,000 customers, according to PSNH's Web site www.psnh.com.
The numbers of workers staying and or eating at Hampshire Hills has grown significantly. In the first week, there were 150 staying there and that number is nearly double now, according to Hampshire Hills owner Rick Holder
Recently, the club fed 450 workers, Holder said.
Despite Sunday's heavy snowfall, about a dozen volunteers showed up at the club around 8 p.m. to deliver the cookies and sing songs.
Among those singing was Suellen Davidson, of Hollis.
Davidson, who lost power for eight days, said she braved the storm to sing to the workers because she understands that they are working under difficult conditions.
"I'm really appreciative to have power now," Davidson said.
Lumbard said more volunteers probably would have come if the roads weren't so bad, because more than a dozen had expressed interest in helping.
The workers of Lewis Tree Service, a Connecticut-based business, said they really appreciated the effort to make them feel at home.
"I'll never forget the way they treated us: Really good," said Anthony Garcia of Lewis Tree Service.
Pauline Vachon and Mike Beebe, of Lyndeborough, brought over the desserts.
The couple had read about Lumbard's plan in The Telegraph, and people in their neighborhood brought platters of treats for Beebe and Vachon to deliver.
Vachon and Beebe, who are married, lost power for a little more than a week.
Holder was impressed with how the volunteers decked out the desserts.
"They are decorated with love," said Holder, who said the tray of cookies and sweets showed "people want to help out somehow."