Group wants special district for downtown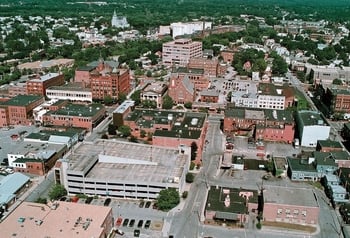 NASHUA – A downtown organization wants to create a special district funded by a tax on businesses within the district.
During a presentation to aldermen before the board's regular meeting, Scott Cote said his organization, Great American Downtown, hopes to bring a proposal to the board of aldermen within the next few months.
Some months ago, GAD pulled together a committee of downtown business owners and city officials to discuss the concept of creating the district, Cote said.
"A (business improve district) is essentially a public and private partnership in which property owners and businesses in a defined geographic area elect to make a contribution toward the maintenance, economic development, marketing and promotion of their commercial district," Cote said.
State law allows the creation of the special district, which must be approved by the elected body in a community, said Cote, a former GAD president and current vice president for facilities and emergency preparedness at Southern New Hampshire Medical Center.
Only one such special district now exists in the state – in downtown Manchester. Businesses within the district are assessed an additional tax to fund specific initiatives.
"This isn't intended to replace city services. What it's intended to do is to add to those services," Cote said.
Examples would be to increase street sweeping, sidewalk snow removal, security or other improvements within the district, Cote said.
Sue Butler, GAD's executive director, had served as marketing director for Intown Manchester, the group that oversees improvements in that city's downtown district, before coming to Nashua last year.
In Nashua, the downtown district would extend from the Hunt Community building north to the Hunt Library, and a block or two east and west of Main Street, Cote said.
Support for the district so far as been good based on responses to a survey GAD distributed to downtown businesses before the holidays, Cote said.
He said GAD hopes that by July the board of aldermen would vote on whether to create the district.
Along with Cote and Butler, other GAD officials attending the presentation were Terry Williams, GAD president and publisher of The Telegraph; Sherrilyn Alden Bellavance, a downtown merchant and GAD vice president; Issa Ansara, GAD treasurer and a financial analyst with Public Service Co. of New Hampshire; and Michael O'Brien, deputy fire chief and GAD board member.
Also during the presentation to the aldermen, Butler outlined GAD's accomplishments over the past year.
They included upgrading the Web site – www.downtownnashua.org – to make it a site to serve businesses and not the organization, Butler said.
GAD also launched a bi-weekly newsletter and an information page in The Telegraph and worked to reintroduce merchant meetings, she said.
Butler noted that GAD's two big events – the Taste of Downtown Nashua and the Winter Holiday Stroll – have been the most successful so far. The organization also coordinated three other downtown promotions, she said.
GAD received federal money in the form of a Community Development Block Grant to erect two arches tying side streets to Main Street, much like the arches in downtown Manchester, Butler said.
The two arches will be installed via $49,500 in federal grant money, she said.
Butler also thanked the aldermen for the city's financial contribution to GAD. Last year, GAD received $40,000 from the city, she said.