Group shares photo of soldier who died in Vietnam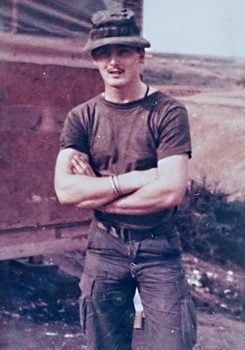 Dennis Lorden looks relaxed and happy in the photo, posing barefoot with his Army buddies in Vietnam.
And what his sister Gayle likes best about the photo is that Dennis, of Milford, seems surrounded "by love and good people."
That's profoundly important to Gayle and her family because 40 years ago today – July 14, 1969 – Dennis was killed in battle not long after the photo was taken.
The Lorden family saw the photo only recently, after it was sent to them by a platoon leader who is part of a group called Veterans of Bravo.
To have received a picture "after so many years is pretty much a miracle," said Gayle, who is now Gayle Wade.
Dennis was the oldest of the seven children of Kenneth and Lorraine Lorden. Kenneth was one of the owners of Milford's Lorden Lumber Co., which has been involved in lumber and logging in Milford since the early years of the 20th century.Gayle was 18 when Dennis died and will never forget the terrible day when she opened the front door and two somber men asked to speak to her mother and father.
"Denny was my best friend. We would hang out all the time. He loved souped-up cars, GTOs," she said. "He was the sweetest spirit, the kindest person. Everybody loved him. My father was devastated. My mother will miss him until the day she dies."
Dennis was 18 when he was drafted into the Army in 1968, and Gayle remembers that when he was home on leave, he "looked like he had turned into a man."
The photo is one of only four the family has of Dennis as an adult, and with his distinctive long hair
Dennis was "probably the first person in Milford to grow his hair long, like the Beatles – I think he had long hair before the Beatles," she said.
Tom and Sue Combs, of Golden City, Miss., started their Veterans of Bravo Web site after Tom went in search of information about one of the soldiers in his platoon who was killed in battle. Tom was a 1st lieutenant, a 2nd platoon leader in B (Bravo) Company, 1st Battalion of the 11th Infantry, 1st Brigade, 5th Infantry Division (M).
He calls it survivor's guilt, or tying up loose ends, or resolving old demons, but Tom always felt badly about a young sergeant in his platoon, a black man named Robert Kennedy.
Kennedy had asked to be excused from what became a fatal mission, and Tom told him he had to go.
"A few years ago my wife started looking for him," Tom said, and in the process they found the mother of another young man who was killed and the mother "was so happy to hear from us."
That was the impetus for the couple to start looking for photos and information for all 41 of the men who were killed between July 1968 and August 1971 – the time his platoon was in existence.
"It was (the war's) last combat unit. It was kind of late in the game, but we accomplished quite a bit," said Tom, who didn't know Dennis Lorden because he joined the platoon about a month after he died.
Finding information on Robert Kennedy was difficult because there was no obituary in the Birmingham, Ala., newspaper. The Combses learned to their amazement that the paper did not publish obituaries of blacks at that time.
But someone at the paper put Sue in touch with an African-American genealogist, who referred her to a Birmingham civil rights museum.
When she called the museum and said she was looking for information on a Sgt. Robert Kennedy who was killed in Vietnam, there was silence on the other end of the line for a long time.
"I was engaged to him," the woman finally said.
"It just about blew our minds," said Sue. "Her name is Gliss Howlett. She said she later married, but is now divorced. She remained friends with Robert's family. She ran into Robert's mother three or four years ago, shortly before she passed away. She said Jetty Kennedy looked at her children and said, 'you know those should have been my grandchildren. I've always thought of you as my daughter-in-law.' "
The Combses have more than a thousand photos on their Web site that people took in Vietnam, but many of the men are unidentified.
"I kept posting messages asking if anyone had photos of the guys of whom we were missing pictures," said Sue. "I also kept asking if they'd review all the pictures on the Web site to see if they could help me find a photo of these guys," she said.
That's how she found the photo of Dennis Lorden.
At Company B's annual reunion Aug. 1 in Branson, Mo., the Combses will try to get the veterans together to try to identify more of men in the photos on the Web site.
"It's very rewarding," Tom said, "to find out after all this time that people are still hurting and that we can help them feel better. We don't want to open old wounds – if we feel that happening we back off."
Gayle Wade, who now lives in Durham, said she was suspicious when she first heard from Veterans of Bravo. Now she is thrilled and grateful.
"Looking at all (Dennis') friends around him – it was so beautiful to see, and to see that he was not alone at the time. He looked surrounded by love and good people."