Group shares leads, advice in job hunt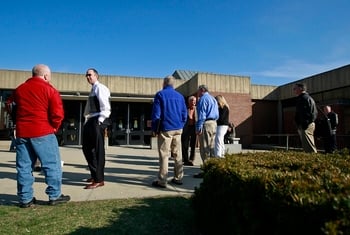 NASHUA – To find work during the recession, Paul Philbrick believes there is power in numbers.
Laid off after 14 years working at Fidelity Investments, Philbrick said that, at first, he was in shock. Much of his time was spent surfing the Internet looking for job openings but with no success.
"One thing that became clear was that if I was going to get another job, it was going to be through networking," said Philbrick, who lives with his wife and three children in Mont Vernon.That was when Philbrick started a group online to connect with other local job seekers.
Two months ago, they met for the first time in person. Philbrick and seven other people met at Joey's Diner in Amherst to talk about how they could work together.
Since then, Philbrick's group, Network for Work, has ballooned to more than 150 members, many of them with decades of experience in their fields before being laid off.
The group moved out of its cozy confines in the diner and now meets every Thursday morning at the Nashua Public Library, where they share information about job fairs and openings at local companies they have heard about.
The purpose of the group is to have a community mentality, where everyone is helping each other, he said.
"There is a 'pay it forward' mentality," Philbrick said. He is still looking for work and is running the group on a volunteer basis, along with several others who lost their jobs at Fidelity.
After working for the company for 11 years, Doug McAllister was laid off from Fidelity in November. McAllister he has applied for roughly a dozen jobs but with no luck.
McAllister said much of the problem is that there are so many people like him looking for work.
Before the economic crisis, a job seeker would be one of 20 people applying for a job, he said, but "Now you're one out of 1,000."
"It's like sending your resume into a black hole," he said.
Frustrated with hitting dead ends, McAllister joined the networking group a few weeks ago. At 60 years old, McAllister said he is concerned about whether his age will prevent him from landing another job.
About 25 people showed up for last week's meeting, a turnout that Philbrick said was likely diminished due to the statewide job fair going on in Manchester that day.
The group's weekly meetings start out with an overview of how the system works, followed by hearing about "landings," when members successfully find employment.
Last week, Philbrick reported that one member, who wasn't present, was able to land a contract position with Fidelity, the same company that laid him off.
When sharing success stories, Philbrick said it's important to hear not only where they found work, but also how. Tammy Hildreth and Jim Starrett, also both laid off Fidelity employees, helped run the meeting.
"I've never been unemployed," Starrett said. "When I found myself in this situation, the natural thing was to try to help people."
When Hildreth asked those who showed up how many were new to the group, more than half of the people raised their hands.
"I'm happy to see you," Hildreth said, "but it's a little bittersweet."
After the introduction, new members were broken into a separate group for an orientation. As they went around the room, nearly all of the new members and many of the old ones said they were laid off Fidelity employees.
Since November, Fidelity has laid off 4 percent of its work force nationwide.
Starrett talked with new members on how to develop a 30-second "elevator speech."
"If you run into a hiring manager in an elevator, you've only got 30 seconds to make a presentation," he said. "You need to be able to sell yourself."
They also discussed the importance of making personal business cards.
While new members met, the other members gathered for a session called "leads and needs," where they shared information about job postings they had heard of.
Hildreth said one of her leads was Transparent Language in Merrimack, which develops software to help learn different languages.
Hildreth said they were looking for content developers who could also speak Chinese, Japanese or Arabic. The job openings were temporary eight-week contracts, she said.
Four months ago, Steve Duhaime, 43, was working for a printing company in Attleboro, Mass. Duhaime, who lives in Temple, lost his job in February.
"I've never been in this situation before," he said.
This was Duhaime's first time attending the Nashua group. He is also considering joining an outplacement organization but said they are expensive.
Duhaime said the next couple weeks will be critical because businesses will be getting their first quarter results, which will likely determine whether they will be doing any hiring.
After talking with his wife, Duhaime said they have decided not just to settle for anything that comes along.
"I need to find a job I can grow with," he said.
Before the meeting started and also after, people shared stories about their search for a new job. They exchanged their resumes and their personal business cards.
Philbrick said the key to networking is getting in through the inside, finding a connection to someone currently working for the company.
So what happens with Philbrick finds a job? The group will keep going without him, he said.
"We have a succession plan for that," he said.