Group projects virtues of medical pot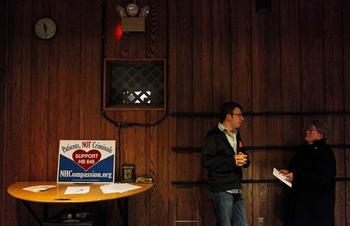 The debate about allowing marijuana to be used for medical purposes has been going on for years, and some people might argue that it isn't our place to make that decision – that it should be made by a doctor and the patient.
"There are people living with pain, and there is something that can help them," Greg Surbey said Saturday after a showing of the film "Waiting to Inhale" at the Nashua Public Library.
"I don't want patients to suffer just because I don't use it. You have to respect other people."
Surbey wasn't the only one disturbed by some of the content of the film that shows how marijuana can be used for medical ends such as pain, nausea, depression and appetite.
Lou Eastman and Monica Granger felt angry that there are so many people suffering because they're afraid to use a substance that's illegal.
"These people are being kept from what they need," Eastman said.
"Waiting to Inhale," a Jed Riffe LLC film, shares stories of families who have known somebody who was positively affected by the use of marijuana and negatively affected by other prescriptions given by their doctors.
"We all know someone who has experienced it – smoking pot – and it doesn't derail your life," Granger said.
The film also points out that doctors will do what's best for their patients and whatever it takes to improve the quality of their lives. Some patients are allergic to a lot of pharmaceutical drugs and marijuana is their only option. Some patients won't eat because of a loss of appetite, and marijuana can contribute to getting their appetites back.
"I'm constantly shocked when watching the documentary," said Phillip Coan, a field staffer for the New Hampshire Coalition for Common Sense Marijuana Policy since September. "It always makes me take a step back."
The group is dedicated in changing marijuana laws. With the state Legislature considering passing a bill such as HB 648, which would protect seriously ill patients from arrest if recommended marijuana use by a doctor, it's showing a hopeful future for those who are suffering.
"We're cautiously optimistic," Matt Simon said about the bill being passed this year.
Simon, executive director of the New Hampshire Coalition for Common Sense Marijuana Policy, has been involved with the movement since January 2007. He said somebody needed to initiate a debate among the public about passing such a bill and that he, along with others, were willing to do that.
"Why do we perpetuate so much suffering when we could be relieving?" Coan asked.
By traveling around New Hampshire, showing this documentary and providing a discussion, the word is getting out there. Simon said there haven't been a lot of – if any – negative responses.
"It's been overwhelmingly positive," Simon said. "People are eager to sign up and get involved."
According to a poll conducted by Mason-Dixon Polling and Research of Washington, D.C., with an error margin of 4 percent, 71 percent of New Hampshire voters support medical marijuana reform, while only 21 percent are opposed.
"If it were up to the people of New Hampshire, we know the bill would pass," Simon said.
A hearing on HB 648 will be held March at 10 a.m. 9 at the Legislative Office Building, Room 205, behind the Statehouse in Concord.
"I challenge anyone who opposes the bill to watch this film," Simon said.
Another showing of "Waiting to Inhale" will be at 7:30 p.m. Thursday in Pierce Hall at Franklin Pierce University, Rindge.
ON THE NET
New Hampshire Coalition for Common Sense Marijuana Policy: www.nhcommonsense.org.