Group decries puppy mills' treatment of dogs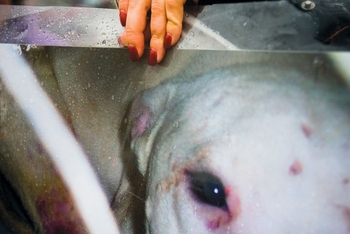 A steady rainfall might have provided Granite Staters a ready excuse to participate in indoor activities Saturday morning, but for Sherry Bezanson, the gloomy fall weather presented the perfect backdrop to continue her fight against puppy mills.
"Sure, we don't want to stand out here in the pouring rain, but this is how most puppy mill dogs live," Bezanson said. "They don't get to choose the conditions they're forced to live in, so we can certainly tolerate a little cold rain for a few hours to teach people about the problems puppy mills are causing in the United States."
Bezanson was one of 25 protesters gathered outside the Barmakian Jewelers entrance to the Pheasant Lane Mall in Nashua on Saturday in an effort to inform the public about puppy mills.
Puppy mills are defined by the Humane Society of the United States as breeding facilities that produce purebred puppies in large numbers that are then sold either directly to the public or through various brokers and pet shops across the country.
"Basically what we're doing is trying to raise public awareness about what exactly puppy mills are," Bezanson said. "Most people don't realize where these adorable puppies are coming from when they see them in pet stores, but I've done a ton of research on this and it's a cruel reality.
"These dogs live in wire cages all their lives, stacked on top of one another. They get very little veterinary care, and the people running the operations have little regard for the health of these animals; they only care about making a profit."
Bezanson began holding her demonstrations back in May and has held dozens of such rallies since at various locations in Manchester and Nashua.
Since May, hundreds of people have joined Bezanson in her fight against puppy mills, gladly giving up a few hours of their weekend to fight for a cause they believe in.
"I've done a lot of reading on puppy mills, and it really shocked me to see the conditions that these animals are forced to live in," said Kathy Peirce, an Auburn resident who attended Saturday's rally with her two sons. "I wanted to get involved and heard about what Sherry was doing, and once I told my sons Matt and Tim about what I was going to do, they both wanted to come help, too.
"Hopefully this will help to make people more aware of what's going on, and maybe lead a few more people to adopt their new pets this holiday season rather than buy from a pet store."
Bezanson and many of her supporters may have only recently become involved in the fight against puppy mills, but the issue has floated in and out of the public spotlight for several years. Back in 1999, Reader's Digest conducted a special investigation of puppy mills in its February issue that year, and in April of 2000, NBC's Dateline aired an expose on puppy mills in America. More recently, Oprah Winfrey featured a segment on her talk show that investigated puppy mills in April.
"It's all about getting enough people to stand up and help these animals be seen and heard," Bezanson said. "It's going to take a huge force of people to get this to stop. Until these places stop selling puppies, puppy mills will remain in existence."
While public awareness is a problem Bezanson hopes to change with her demonstrations, she knows it's not the only obstacle that must be overcome in her fight against puppy mills.
"One of the biggest problems we have is getting people to see the big picture," Bezanson said. "People go in to the mall or to a pet store and see these animals and think that they are making a difference by saving them from these cruel conditions, but what they don't realize is that there are thousands of other dogs waiting at these puppy mills to take the place of whatever animal they buy."
While it may be years before progress is seen on a national level, Bezanson said the long road ahead won't deter her and others from their fight.
"The holidays are the largest puppy-buying season in the United States," she said. "If we can encourage those people to adopt their animals instead of buying from a pet store that gets their animals from puppy mills, we're already making a difference."