Greater Nashua Chamber bestows awards at annual luncheon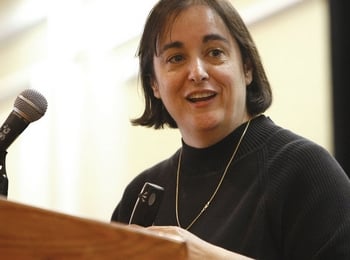 NASHUA – No one ever would have envisioned in the cold dark days of December, as thousands of people lost electricity because of an ice storm, that months later a power utility company would win a business award.
But apparently the feat of restoring power to more than 322,000 customers – and considerable charitable work – earned Public Service of New Hampshire such recognition Thursday.
PSNH won the Greater Nashua Chamber of Commerce's Business of the Year Award. The recognition came at the chamber's annual Eminence Award luncheon that recognizes employees, businesses and volunteers.
"We never expected this out of a storm," Paul Ramsey, PSNH's vice president of customer services, said. "We are looking forward to spring."
Four other awards were presented at the luncheon held at Radisson Hotel Nashua. Guests also heard Paula Long, one of three people who started a data storage company in a garage, humorously detail how that business was eventually bought out by Dell for a cool $1.4 billion.
Living At Senior Home Care received the chamber's Small Business of the Year Award.
THE WINNERS ARE . . .
Adele and Frank Belfsky started the business in 2003, and last year they saw revenue increase by 65 percent from the previous year, chamber President Chris Williams said. The business also offers health seminars to senior citizens and has its employees participating in community events, he said.
Marc Berube of Eaton & Berube Insurance Agency won the chamber's Business Person of the Year Award.
Aside from his business' standing in the community, Berube encourages his employees to volunteer, and they heed his word by helping at the Nashua Soup Kitchen & Shelter and assisting in other fundraisers, Williams said. Instead of a holiday gift exchange, Berube's company forwards money to needy families, he said.
Rick Ruo, of Ruo & Haschig Realty, won Community Volunteer of the Year. Ruo, a director for Nashua Soup Kitchen, has volunteered "countless hours" for the outfit, Williams said. He also has volunteered for Habitat for Humanity's site selection committee, which finds housing sites for families earning 25 percent to 50 percent of the local median income, Williams said.
And Marc Lancaric of Arpin Group won an award for being the chamber's outstanding volunteer. Lancaric has donated much of his time to the chamber, including spending eight hours hanging drapery for a chamber event, Williams said.
In his speech, Williams didn't say PSNH's power restoration efforts played a role in helping the utility land the award, but ostensibly made the connection by citing how more customers lost power in the 2008 ice storm than from any other act of nature. Williams also cited how PSNH gave $245,000 to nonprofit organizations in 2008 through United Way.
PSNH needed the help of utility crews from across the country and Canada to restore power throughout December. Many customers criticized the utility for not getting their lights on fast enough and for not communicating properly, but PSNH said it restored power to larger population areas first and worked as hard as it could.
Long led the event by describing how as a co-founder of EqualLogic, she and two others defied convention and the odds in turning the Mont Vernon startup into a winner that caught the eye of Dell. It is now Dell Storage after the billion-dollar acquisition in 2007.
She advised the gathered crowd to not let an engineer run the company and said that no matter how bad things can get, don't believe your obituary.