Grease is the word – and fuel – at Chunky's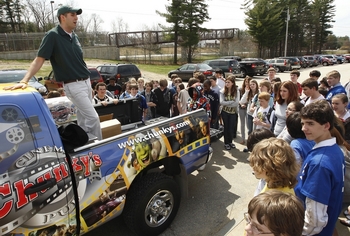 NASHUA – Earth Day smelled like fast food at Pennichuck Middle School.
A Dodge Ram fueled by vegetable oil parked outside the school Wednesday, serving as a literal reminder of biodiversity on a day celebrating environmentalism.
The refitted truck, owned by Chunky's Cinema Pub, notches 22 miles per gallon on cooking oil collected from the restaurant portion of its business, said the movie chain's marketing director Michael Mannetta.
The $3,000 conversion to bio-diesel has paid itself back and continues to save money as well as reduce the use of fossil fuels, he said.
Similar conversions have become more popular among restaurants in recent years because they have access to used grease and otherwise have to pay to dispose of it. The vehicles use their diesel engines to start and warm up until the grease is melted, but do most of their traveling on the grease.
Mannetta caught the interest of a large group of eighth graders with some clever promotional questioning: Had they ever eaten Chunky's French fries?
They responded with a resounding "yes." But as Mannetta informally explained how oil used to make French fries and other fried foods could now be reused to power a truck, their interest flagged a bit. Blame the beautiful weather, perhaps.
The grease causes less damage to the environment by replacing a diesel fuel that emits greenhouse gases, Mannetta said amid the clamor of noise.
Before the students arrived, Mannetta said Chunky's once paid "a lot of money" to have the used cooking oil removed from the company's theaters, and now gets paid by other restaurants to remove their used oil.
Earlier, eighth-grade earth science teacher Monica Tino said her students were making the most of the week around Earth Day. They had pledged to be more environmentally conscious and do things such as not littering or not running water as they brush teeth.
The Chunky's truck also excited Pennichuck paraprofessional Nathan Moreau, who has been studying bio-diverse vehicles for some time. Moreau said the next truck he buys, he will probably convert it to bio-diesel.