Grateful family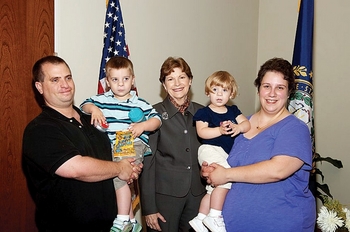 John and Laura Graudons recently were able to show their appreciation for a hospital that had done so much for their family.
The Graudonses, with son Jakob, 3-1/2, and daughter Caroline, 22 months, traveled to Washington, D.C., to take part in a Family Advocacy Day sponsored by the National Association of Children's Hospitals.
The family acted as advocates for Children's Hospital Boston, telling their family's story and meeting with their members of Congress to discuss the importance of children's hospitals and the specialized care they have received.
The Nashua family was among 19 families overall, and six from New England, who asked that the needs of children be remembered in the debate about health reform.
Jakob and Caroline were born with cleft lip and palate, which were repaired at Children's Hospital Boston. Jakob had three surgeries before he was a year old; Caroline has had four.
"I'm so appreciative," Laura Graudons said. "They've just been so wonderful. Both of my kids have benefited so much from the wonderful doctors there."
Laura Graudons said she's happy to spread the word to other families about the good work the hospital does.
The family spent three days and two nights in Washington, Laura said.
She was nervous about the trip because it would be Jakob and Caroline's first time on an airplane. She needn't have worried, she said, because both children did well on the flight.