GOP challenger would push bills for more offshore drilling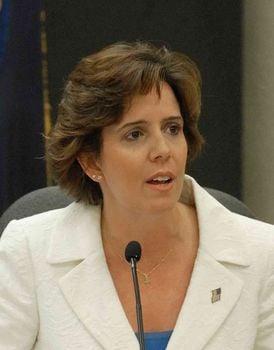 CONCORD – Republican congressional candidate Jennifer Horn of Nashua has vowed, if elected, she would pursue legislation to allow more offshore drilling for oil and gas.
Horn detailed her energy agenda and criticized the voting record of first-term Democratic congressman Paul Hodes during a news conference Tuesday at a business that has curbed its power costs by converting to an alternative fuel source.
Horn said Hodes, a Concord lawyer, emphasized energy reform as a dominant issue in his campaigns for the 2nd Congressional District seat in 2004 and in 2006 against Republican Charles Bass.
"This was one of his premier issues, but as a congressman, he has voted against energy independence at every turn," Horn claimed.
"We can do better."
Hodes spokesman Mark Bergman said the incumbent has a record of achievement on the issue starting with the first-ever, $300 tax credit for those who purchase wood pellet stoves.
>>>N.H. Campaigns 2008<<< Hodes also voted to get tougher on gas stations that price gouge and tried to put further restrictions on those who profit by speculating on the future price of energy, he added. "For someone who spends a lot of time talking about Paul Hodes' record, she doesn't seem to be too familiar with it," Bergman said. "This is what we have come to expect from her campaign, negative attacks, finger pointing and Bush talking points." Horn hosted the event at the Red Blazer Restaurant and Pub, where the owners have taken all their power uses off the grid. Co-owner Sarandis Karathanasis said the company has saved $1,500 a month by using energy generated from used cooking oil. "This has really been a godsend for us. We got in the mindset of lowering our power usage, and once we had made all the adjustments possible, we considered this conversion,'' Karathanasis said. The ban on offshore oil and gas drilling ended on Oct. 1 when Congress failed to extend a moratorium that had been in place for more than two decades. But Horn noted action in Congress is needed to authorize companies to explore for new oil and gas resources. She criticized the Democratic leadership in Congress for passing legislation they argued would permit more drilling but only on the 68 million acres of federal leases the energy companies already had on hand. "This was the drilling bill that had no drilling; that's how I like to describe it,'' Horn said. She called "grossly exaggerated'' the notion that it could take as long as 30 years to produce new oil and gas resources offshore.