'goodgood manchester' community platform connects the Queen City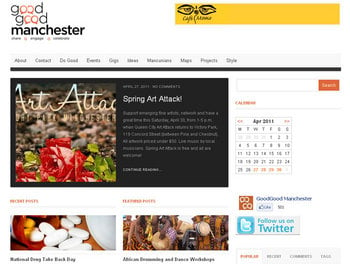 For one night only, an otherwise vacant storefront in downtown Manchester was filled with paintings of pears, masks hanging from strings, black-and-white sketches and a crowd of people to admire them all.
Held April 14, the free White Flag Gallery was Manchester's first-ever pop-up art gallery, a trend popular in large cities because they let artists showcase their wares and property owners their vacant spaces to potential tenants.Events like the pop-up gallery were just what Will Stewart and Kathleen Schmidt had in mind when they founded goodgood manchester, an online community platform that presented the gallery in partnership with the Manchester Arts Commission and the New Hampshire Institute of Art.Making its home online at myggm.org, goodgood manchester is not just a website but a platform for local residents, visitors and organizations to share stories and engage in the goings-on of the Queen City, said Stewart – something, he contended, that the city has been hungering for."Manchester is a city of best-kept secrets," said Stewart. "Kathleen and I definitely saw the potential here, but I think a lot of people don't, so we wanted some way to highlight that.""I think a lot of people feel there was something missing in the community on the personal level," said Schmidt. "It was very hard to connect and find people that I wanted to meet and things that were happening in Manchester."To change that, Stewart and Schmidt – who have lived in the Queen City for six and eight years respectively – launched goodgood manchester in October 2010 as residents at abi Innovation Hub in Manchester.In just half a year since its launch, the pair has already licensed the site's first franchise, which will go live 3,500 miles away in Liège, Belgium (and will be known as goodgood liège). To receive the name, website template and back-end support, franchisers will pay a monthly franchise fee – yet to be determined – but can keep all advertising revenue.One of goodgood's most updated features is its events listing, which promotes everything from bicycle swaps and African drumming workshops to fundraisers and a lecture series on South Park. All are in the Queen City and are presented by or in support of local groups, because, said Stewart, "we're here to promote local business."There's a hunger in Manchester for these kinds of things," he said. "Who doesn't want to live in a city that has these more sophisticated offerings and culturally relevant things for them to do and see?"'Mancunian'-drivenBut the digital platform acts as much more than just an events aggregator; it also features handpicked job listings, an exhaustive list of volunteer opportunities and ways to donate to local nonprofits.Visitors to the website will also find short interviews with everyday Manchester goodgood followers, or "Mancunians," who offer their input on what might make Manchester better, and lighter fare like photographs of street fashion and standout vanity plates.Local businesses get a boost through goodgood's Crowdmaps, which are user-generated, interactive maps that highlight different categories from brunch spots to places that have free Wi-Fi. Users can upload their own favorites, cluing other locals into hidden neighborhood gems.Additionally, Stewart and Schmidt are always on the hunt for expert guest bloggers to showcase their ideas on how to improve the city, in posts that range in topic from a proposed downtown streetcar system to a bartering night."We want to be a platform for sharing these ideas," said Stewart, who also works as a community organizer at NeighborWorks Greater Manchester. "Where else could somebody share this kind of information to a diverse audience?""There's nowhere," answers Schmidt.Schmidt and Stewart curate all the content on the site, though enabled comments allow readers to join the conversation and suggest story ideas. With an active social media presence, goodgood finds most of its followers through Facebook, said Schmidt, who regularly photographs events and invites individuals and organizations to "tag" themselves in the shots – an easy way to attract new followers."I think one of the reasons this site resonates is that people are like, 'I never knew all this cool stuff was going on in Manchester,'" said Stewart.When one Mancunian who was profiled on the site was asked to share an interesting link with the rest of Manchester, he suggested goodgood itself."I swear this is not kissing up, but goodgood manchester links up all arts, entertainment, sports, social, and cultural happenings in Manchester, and they do it FREE of charge," he wrote. "Even though I still don't get HOW they do it, or WHY … they are hands down the best link."Schmidt and Stewart have no plans to launch goodgood in another city themselves, because they say it's essential to the site's success that it be implemented on the ground by people that know the area intimately."It needs locals to do it – I don't know Nashua," said Stewart.In addition to banner advertising, franchising will be the startup's main revenue source."It's something that can work anywhere, whether it's Nashua or Shanghai," says Stewart. "Everyone wants to live in a place that has fun things happening and where cool people live. These kinds of sites can take a community and show that side of a community to itself."Kathleen Callahan can be reached atkcallahan@nhbr.com.