Going greener with Greenerpalooza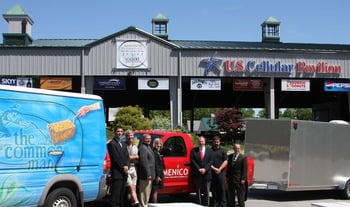 The energy level will be high, but the carbon footprint will be smaller, at Greenerpalooza, a celebration of New Hampshire's energy-efficiency efforts.
The event, to be held Wednesday, July 23, at Meadowbrook U.S. Cellular Pavilion in Gilford, will be set against the backdrop of a Crosby, Stills and Nash concert. The evening's festivities will include a special "eco village" on the Meadowbrook midway, where New Hampshire businesses and members of the general public will be able to learn how to "go greener."
Greenerpalooza also will include a private VIP reception held at Meadowbrook's Center Stage Café Deck. At the reception, a group of New Hampshire companies will be recognized with commendations from the governor's office. These companies have already begun to implement energy-efficiency measures by participating in energy audits conducted by the state or by being part of the Ocean Energy Efficiency Program.
Michael Vlacich, director of the New Hampshire Division of Economic Development, said, "I think everyone who attends Greenerpalooza will be impressed by how many green-based businesses and energy-related initiatives there are in New Hampshire."
Sponsored by Ocean Bank, the inaugural event is designed to showcase New Hampshire products, services and programs that can help individuals and businesses save energy and dollars. According to Janet Brewer, vice president and director of community development at Ocean Bank, "Greenerpalooza is a great way for us to celebrate our energy-efficiency program and the terrific partnership we enjoy with the New Hampshire Business Resource Center, while pushing the green initiative further."
Pat McDermott, economic and community development manager for Public Service of New Hampshire – which is also supporting the event – said that, "from an energy-efficiency, environmental and sustainability point of view, the timing couldn't be better for this event."
According to Roy Duddy, director of the New Hampshire Business Resource Center, Meadowbrook was the natural choice to be the Greenerpalooza venue because of the "way it does business so it will have the least possible negative impact on the environment."
NHBR and WGIR (Rock 101) have signed on as media partners for the event. During June, ads on WGIR promoting Greenerpalooza are matched on a one-to-one basis by ClearChannel with free energy efficiency tips for New Hampshire businesses.
Tickets to the Crosby, Stills and Nash concert, which include entry into the eco-village, are available online at meadowbrook.net.
For more on energy-efficiency programs and resources for New Hampshire businesses, call the New Hampshire Business Resource Center at 603-271-2341 or visit NHEconomy.com.