Give Kids a Smile Day brings dental education to the classroom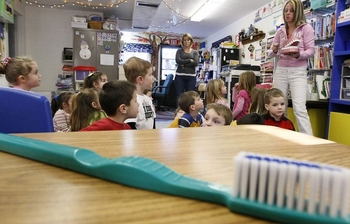 Friday was Give Kids a Smile Day, the centerpiece of the National Children's Dental Health Month that happens annually on the first Friday of February, and a classroom full of preschoolers were anxious to show off their teeth.
Walking through the doors of Litchfield Little School, comprised of nursery school, preschool and kindergarten for ages 3-5, the sound of the radio singing about brushing and flossing had the preschool kids excited about the presentation they were about to hear.
"It's important that they have the proper instruction," said Dellann Frost, head teacher of all classes.
>>More Photos<< Frost has been teaching in Litchfield for nine years and has had Collins Dentistry for Children make an annual visit during Dental Awareness Month for the last few years. "They can start early and save their parents a lot of money on dental bills," said Sue Guarino, preschool aide at Litchfield Little School for six years. "Of course, their health, but money, too." According to the American Dental Association, 12,134 dentists and 32,501 other volunteers nationwide were to participate, from instruction and education on brushing and flossing to dental exams for about 451,216 kids nationwide. "Many of the children who receive services on this day do not have a dentist or dental insurance," said Jim Williamson, executive director of the N.H. Dental Society. "They otherwise would not have any other way to get oral health care." There is an estimated $58,600 worth of donated work expected from 30 dentists in the N.H. Dental Society who are volunteering this month to reach about 2,610 children from Nashua to Conway. "They're teaching them good habits that we hope last a lifetime," Williamson said. "The care is vitally important to the overall health and quality of life for all these children." Nicole Nohelty, former receptionist of Collins Dentistry for Children and now a presenter, gave the preschoolers basic information about the importance of taking care of your teeth. Nohelty will give about 50 presentations during the month, and knowing the attention span of young kids, she keeps them interactive by reading, playing a game and pulling out "Marty the Mouth," an oversize set of teeth that the kids get to brush and floss. "It's definitely important - teaching the basics about brushing - because little kids need guidance on their teeth," Nohelty said. It was clear during the information session that these kids were unaware how important flossing is. Some said they think they're doing it incorrectly. "You can never start too early," Frost said. "They'll establish routines with better health." The kids were enthusiastic during the "Healthy or Non Healthy" game, during which the kids would pick out a snack from a box and either put it in a bag with a happy face for "healthy" and a sad face for "unhealthy." Liam Chapman was extremely picky with what food item he wanted to pull out of the bin. After pulling out a carrot and getting the explanation from Nohelty that a carrot is a healthy food and should go in the healthy bag, Chapman held the carrot over the sad face. "I don't like carrots," he said. In between lessons, the kids would talk amongst themselves about the brushing habits they have at home, causing them to get rowdy while comparing stories. But after Frost would say "criss, cross, applesauce," the kids would again be on their best behavior waiting for the next instructions from Nohelty. After Nohelty gave the preschoolers the basics on dental hygiene, she asked the class what they learned, immediately causing a wave of raised hands and the sound of kids yelling "I know" and "Me." "I learned you should floss your teeth gently," Anthony Holder said. "I'm going to brush my teeth two times a day," Liam said. "I'm going to brush mine five times a day," a competitive Rachel Guillette shouted. The Greater St. Louis Dental Society held the first Give Kids a Smile day in 2002, when the clinic and a group of dentists serviced close to 400 kids in just two days. "There are just too many people who don't make their teeth a priority," Williamson said. School districts from Amherst, Mont Vernon, Milford and Hollis, among others, will participate in National Children's Dental Health Month. There will be clinics in Nashua and Merrimack on Feb. 13 and 20. Registration for these clinics has been completed.