Gilmour claims victory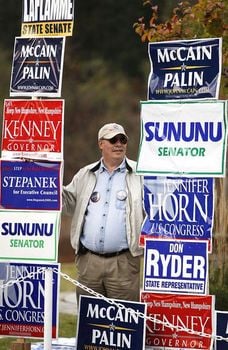 Peggy Gilmour rode the wave of a state Democratic sweep on Tuesday to win a three-way contest for the District 12 State Senate seat, her first election to public office.
The retired Nashua Home and Health and Hospice CEO garnered 12,502 votes, while Nashua Republican Paul LaFlamme took second place with 11,648 votes. Independent Betty Hall trailed both with 2,574 votes.
The district includes Hollis, Brookline, and Mason; and Nashua wards, 1, 2, 5 and 9. Incumbent Democrat David Gottesman of Nashua had decided not to run.
While Gilmour, 66, made her first run for public office, Hall is a 14-term member of the state House of Representatives. LaFlamme, 35, was a state representative between 2000 and 2004.
Gilmour credited her win to a strong organization, good mentors, including former Nashua mayor Bernie Streeter, and dogged persistence.
"I worked very hard. In people's opinion, I was the best candidate," Gilmour said, adding that she took Streeter's advice to keep the campaign momentum going all the way to Election Day.
"Every day, I'd get up and I'd say, I'm 12 votes behind. I've got to get 12 votes," Gilmour said. "I've got to get 12 votes became my mantra."
Gilmour said she was determined to run a campaign based on civility and respect.
"I was talking to my granddaughter who is 13, and I said, 'Let me tell you something. If I don't win this race, I have the knowledge that my opponent is someone I respect.'"
Gilmour said the three-way race affected her campaign strategy.
She knew that Hall, a former Democrat who lives in Brookline, shared some of her views and that Hall's candidacy would mean she would lose some votes.
Indeed, some state pundits had predicted that the 87-year-old Hall would be the spoiler in the race.
"I didn't believe she would win, but I thought she might prevent me from winning," Gilmour said.
Asked if she thought 2008 was the year of the Democrats, the new state senator recalled President Bill Clinton's speech in Nashua's Greeley Park earlier in the week.
"The message was it's not about the person, but about the philosophy," Gilmour said. "We had something. We need something different. I like to think it's not a Democratic sweep. We need to reclaim our country, and we're going to. This is about us and our future, and we're going to be a part of it."