Getting to know Ukraine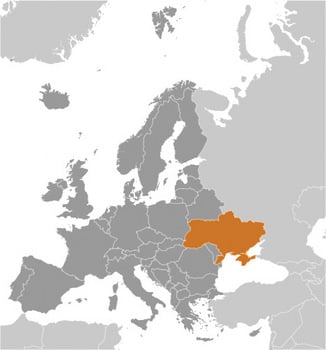 Franklin Pierce University, which recently hosted a Summer Institute for Ukrainian students enrolled in the MBA program, has a partnership with Ukraine's Luhansk National University that allows professors and scholars from both universities to collaborate and deliver a customized MBA program.
Students spent a week at Franklin Pierce and visited New Hampshire businesses that included SilverTech, GT Solar, Hypertherm, New Hampshire Industries, New England Wood Pellet and Atlas Fireworks. They also met Gov. John Lynch and international trade officials. In addition, student teams presented business plans that focused on Ukrainian start-up companies.
During their presentations, the graduate students made some interesting points about Ukraine's potential as an emerging market. Slightly smaller than Texas, and with a population of 46 million, the country is a crossroad between Europe and Asia.
Perhaps Ukraine's two most significant assets are its highly educated workforce and fertile land. As Lilia Dubko, an MBA student and graduate assistant explained, "Ukraine has a huge intellectual potential. We have a high percent of people with higher-education degrees and many bright people in information technology in particular. The second big asset is land. At this point, the law prohibits foreigners to buy land for agricultural purposes, however, there are enterprises that involve foreign capital and do farming/food processing."
As Europe's second-largest country (after Russia), over half of the country's land is arable and accounts for a quarter of the planet's highly fertile black soil, also known as chernozem. Yet, agricultural productivity and sustainability have a long way to go. Due to issues such as unsustainable agricultural practices implemented while the nation was part of the Soviet Union, a Ukrainian labor force that has generally migrated from rural to urban areas during the last decade, a country hit hard by the current global recession, and agricultural machinery that has depreciated by 80 to 90 percent, the country is ripe for renewal in the agricultural business.
As the country's economy stabilizes and investments are made in agriculture, some experts predict Ukraine will become one of the top exporters of wheat by 2013. With the global population forecast to grow from approximately 6.8 billion today to 9 billion by the year 2050, Ukraine only stands to benefit from its grain exports and other agricultural production in order to feed and fuel other nations.
Ukraine also offers a distinctive tourist experience. For example, the Crimean Peninsula on the Black Sea is a subtropical paradise laced with mountains, plains, beaches, orchards, vineyards and historic sites.
According to the United Nations World Travel Organization, Ukraine ranked eighth globally in 2007, with 23 million tourist arrivals.
Export market
A strong Ukrainian educational system has provided a building block for a skilled workforce in a high-tech industrial base ranging from steel production to electronics. Roughly 76 percent of the five-year age group after secondary school is enrolled in postsecondary education.
As reported by UNESCO, Ukraine ranks 11th in the world, just behind Germany, with the total number of students enrolled in postsecondary education. Combined with a talented pool of scientists left over from the Soviet era and a large number of postsecondary graduates, human capital gives the country a competitive advantage over many other emerging markets.
According to the Foreign Trade Division of the U.S. Census Bureau, U.S. merchandise exports increased from $400 million in 2004 to $1.8 billion in 2008. New Hampshire exports to Ukraine have also more than doubled since 2004 from $2 million to $4.3 million in 2008. The top five 2008 New Hampshire exports included plastic and rubber products, machinery manufacturing, computers and electronic product manufacturing, wood products and crop production.
Other New Hampshire export opportunities include products and services associated with alternative energy, solid waste and municipal water.
"Any business dealing with alternative sources of energy has a potential to find a market in Ukraine, especially given the gas conflicts with Russia," said Dubko.
The World Bank has committed billions of dollars to water projects around the world, with a portion allocated to Ukraine. The U.S. Commercial Service has asserted that "virtually all municipal water treatment facilities and industrial pre-treatment systems need replacement and reconstruction."
Tendering for Ukrainian contracts related to water management projects and other opportunities including alternative energy can be found at buyusainfo.net.
Related to global visibility, Ukraine is gearing up to co-host with Poland the EURO-2012 Soccer Cup. In preparation for this major sporting event, the country is undertaking significant transportation, hotel and sporting infrastructure projects to a tune of $25 billion to $30 billion. As this event unfolds, millions of viewers and attendees will no doubt discover how this emerging market is becoming a serious global player.
Dr. Jason Little is associate professor of marketing, undergraduate, graduate and Ukrainian Program at Franklin Pierce University, Rindge.