Get the scoop on the election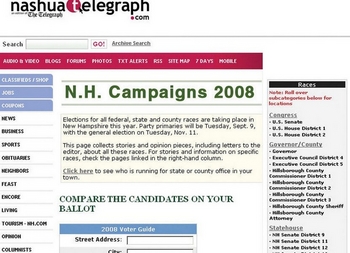 The election is in less than three weeks, and it features the usual avalanche of positions that fill New Hampshire ballots. If you haven't made up your mind yet – quick, what are your thoughts on the Hillsborough County Registrar of Deeds? – you'll want to check the Telegraph's Online Voter Guide.
It allows candidates, particularly those in minor offices, to upload information about themselves and the issues for voters' perusal. The result will even let you print out a sample ballot to take into the voting booth Sept. 9 as a reminder.
For the November election, it concentrates on lower offices, because plenty of information already exists about the presidential, congressional and gubernatorial candidates. If you want to learn about hopefuls for state representative, state senator or some county seats, however, this is your best bet.