Gas pumps may return to Lyndeborough as Mont Vernon faces loss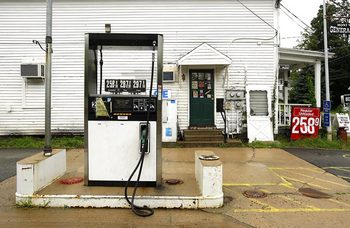 Call it the tale of small-town gas pumps: Lyndeborough may soon get its first gas station in more than 20 years, while neighboring Mont Vernon is facing the prospect of losing its only station.
Mont Vernon's two pumps will close if the General Store moves from the center of town where it has been for well over a century – unless a buyer is found for the building and he or she wants to continue the service.
The owners are eyeing a new location on Route 13 and the Francestown Turnpike and don't plan to install pumps if they make the move.
In Lyndeborough, residents have long gotten used to having to fill up their car out of town. Many work and shop outside Lyndeborough so that is just one more stop.
Few current residents remember the last station, which was at The Little Store and is now closed. For those at the Village Store last week who were willing to comment on a reporter's query, all said it was a "no-brainer" to remember to buy gas out of town; "you just pick it up when you're out somewhere."
The change would be much harder for the Mont Vernon folks.
"I don't know what I'm going to do," Sheri Niven said Monday. "A lot of places don't take checks, and that's what I do."
Her friend added, "Some places don't even take cash – you have to have a card."
Many of the visitors to the General Store on Monday morning were unaware that the gas pump would not move to a new location, if the store owners decide to move.
"It will have an effect," Chip Dougherty said. "You have to plan and get it ahead of time."
It isn't so much filling up cars that is the issue, people said, but filling gas cans for the lawn mower and the chain saw. Running out of gas Saturday afternoon would mean a trip to Milford, Amherst or New Boston, depending on which part of town they live in.
Having the gas at the store is a convenience, said Julie Whitcomb, the store's co-owner.
"Some people are going to be upset," she agreed.
Whitcomb added, however, "putting in new gas tanks is very expensive," when considering state requirements for underground tanks.
Further, she said, "The new site really isn't suitable."
Whitcomb and her husband, Matt Gelbwaks, presented their project to the Planning Board last month and are scheduled to meet with the Zoning Board of Adjustment today. They are requesting a special exception to open a restaurant plus variances for the new store and conversion of a house on the property into offices.
Niven, who said she had worked at the General Store for several years, noted, "The gas is a big draw for the store. People stop for gas and then come to buy something."
Current employee Donna Mosscrop said the present General Store building and an adjacent home are for sale by owners Kim and Brian Fontaine.
"There are several things you could do with this building," she said, but the way it is configured, the store cannot expand to include seating for the deli or provide a public restroom.
The new Lyndeborough station, to be on Route 31 north of the village area, could get a boost because reports have indicated that Delays store in Greenfield may discontinue selling gas as part of expansion plans it is considering.
The gas station/convenience store plan was recently accepted by the Lyndeborough Planning Board. No construction date was given.