Games, animals, shows draw families to Telegraph's Kids Fair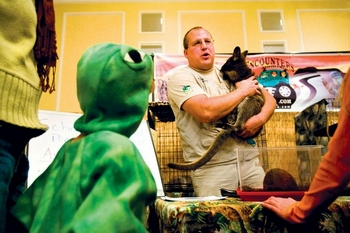 Kyle Gillis forced his way through the tunnel at the end of the moonbounce-like maze. He stumbled for a moment but popped right up with a smile.
"Mommy, I lost my shoe in there," the 4-year-old said, giggling and pointing to the sock on his left foot before hopping back in line.
"Oh boy, this is where he'll be all day," Kyle's mom, Kim Gillis, said. "I need one of these in my basement."
Although Kyle declined to comment, the smile that peeked around the corners of his Shrek mask told the story behind The Telegraph's first Kids Fair.
The Radisson Hotel Nashua hosted the fair from 3-8 p.m. Thursday.
According to Shana Hoch, retail sales manager at The Telegraph, the paper hadn't participated in any events geared specifically toward kids.
"We didn't really do a kids event," Hoch said. "We thought we'd do something that could bring families together before the holidays."
The event was sponsored by the Dartmouth-Hitchcock Medical Center and the Children's Hospital at Dartmouth.
"We always try to support local kids' events," said Sarah Ward of Dartmouth-Hitchcock Medical Center. "It's really important for us to get involved with the community, and this was a great fit."
Activities included live entertainment, a live animal show, a karate demonstration and other games.
Joyce Bedard, of Nashua, brought her two daughters, Gabi, 5, and Kathryn, 3, to the fair.
"I think this is great," she said, motioning to all of the activities. "My kids are all over the place, trying to figure out what to do next."
Kim Gillis said that she appreciates anything that can keep her son occupied.
"I think it's fun," said Gillis, who eventually coaxed her son away from the maze by bribing him with mention of the live snake display. "It's great for the kids."
Gabi and Kathryn Bedard were busy designing personal paper bags for trick-or-treating on Halloween night. And although she was focused and determined to make the perfect candy bag, Gabi was still gabbing about the animal show.
"I saw a snake," she recalled. "It would be scary, but it was in a cage. There was a porcupine over there in a fenced-in cage, too."
Admission was free, and donations were being collected to benefit the Boys & Girls Club of Greater Nashua.
According to Josh Welper, social recreation director at the club, proceeds will go toward renovations at the Boys & Girls Club, which includes plans for a new teen center.
"This is just awesome," Welper said. "Especially with the renovations coming up and money being tight. Any donation is going to help because, in the end, it's about the kids and giving them a better environment."
Gabi Bedard only had one problem with the fair, claiming that she was going to need a bigger bag on Halloween night.
"I'm going to get a hundred pieces of candy on Halloween," she said.