Frustrating as it may be, PSNH has a solid plan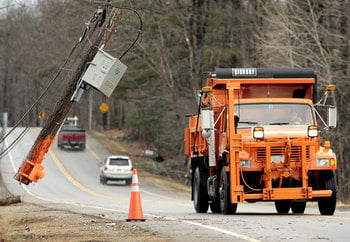 Restoring power to thousands of customers in towns across the state in many ways is akin to the culprit behind the outages – trees.
"It's like a tree," Public Service of New Hampshire Spokesman Martin Murray said of the way the power utility prioritizes and restores electricity to its grid. "What we do is fix the trunk, then the limb, then the branch, then the twig."
Crews first tackle the largest structural problems, then make their way across this metaphorical tree to the smallest problems, he said.
Essentially, if you live in a populous area that lost power because of a shared problem, electricity will be restored there before one homeowner who has a downed wire on a driveway.
"It's a common sense approach," Murray said. "We tackle the biggest problems that will restore power to the most customers in the shortest time.
"If your line is down at the end of the driveway, I know it's frustrating if you don't have power but your neighbor does. But sometimes that's how it goes: restoring power to the most people in the shortest amount of time."
Of course, this explanation doesn't appease those without power and who live near someone who does have it.
A Nashua resident who declined to provide his name blasted PSNH for not having power restored at his Monica Drive home by Monday morning. PSNH restored power to the nearby and busier East Dunstable Road by Saturday morning, but the crews "abandoned us," he said.
The resident wanted a full accounting of how PSNH does its work. "I don't care that this is the biggest storm. How do they manage?"
Murray said he understands the frustration of customers like the Monica Drive resident. But PSNH has to follow a plan of attack that first considers emergency services and then the volume of customers and severity of problems.
Hospitals, and fire and police departments are the first to have power restored, Murray said. Then PSNH assesses where the biggest problems are, he said. "Where on the trunk can we focus on restoring power," Murray said.
That assessment, though, initially proved difficult because of bad road conditions, Murray said. Some roads weren't accessible until Sunday, two days after the storm, he said. Crews only recently got their first true perspective of the Troy area and saw "utter devastation," he said.
"That's why outage numbers are bouncing around," Murray said. "In areas like Nashua, it's impossible to get an estimate on how many are without."
In Nashua, for instance, a major street like Broad Street can have power, along with two of its secondary streets, but a third ancillary street might not have electricity because of a problem unique only to that street, Murray said. "Instead of going to (that third street) the crews will go to another Broad Street type of incident to get the most people restored in the fastest time," he said.
The Monica Drive resident's chief complaint was seeing a PSNH service truck close to his home but still not having power.
To those like him and to those who haven't seen a PSNH truck, Murray said the reason for that is a truck is "outside someone else's home," Murray said. "It's extremely frustrating to customers who don't have power, but there is a method that does make sense."
Restoration will take time not only because of the high number of broken wires and poles but also because of the severity of the broken equipment, Murray said. In Peterborough, for instance, two work crews continue to work on a "complex problem" for a hospital and other nearby customers, he said.
In some places, crews have to rebuild entire infrastructure, Murray said. "It means replacing utility poles, replacing equipment and restringing wire," he said.
Pennichuck Water Works has also been working with PSNH to restore water to customers, according to Donald Ware, president of regulated utilities.
Ware said during the initial part of the storm about 55 out of the company's 68 systems were without power, but about one-third of those had either gravity storage or emergency generators that continued service.
As of noon Monday, power had been restored to many systems, but there were still 25 without power, including some in Amherst and Milford.
The company also uses portable generators to provide water for shorter periods of time for the smaller systems without automatic backup until they can get the systems up and running again.
A lack of workers also could affect when the systems are up and running.
Despite having utility workers from other states join the recovery effort, PSNH still needs more people, Murray said. PSNH is competing for qualified workers with other utilities in the state and region also hit by the storm, he said.
While PSNH had a peak of 322,000 affected customers, an additional 108,000 homes and businesses that use other utilities also lacked power.