Friends gather to remember bowler at Nashua lanes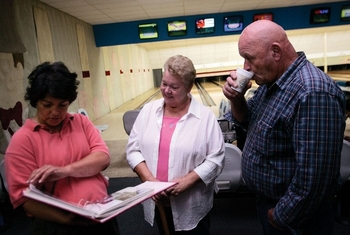 NASHUA – Ninety-four-year-old Josephine "Josie" Zedalis was in a league of her own. That's why two dozen or so people showed up at Leda Lanes on Saturday morning, sipping coffee, nibbling Danish pastries and talking about the 80 years the feisty Milford woman spent knocking down strikes and making lifelong friends.
Zedalis, a former shoe factory worker who died July 31, was bowling nearly to the end of her life. In every way, she was the heart and soul of the Monday afternoon Senior Bowling League at Leda Lanes, according to Sean Howard, co-owner of the bowling alley and Zedalis' friend.
Her daughter, Ginni Tocci, said Zedalis "loved bowling and her family more than anything in the world."
The event, the brainchild of Zedalis' family and Howard, was not only a celebration of Zedalis' life as a bowler and as a caring friend and family matriarch, but also an effort to begin a bowling scholarship in Zedalis' name. The money will be used to encourage seniors to bowl and, like Zedalis, find community, camaraderie and good, old-fashioned exercise among the candlepins.
Howard was standing in front of a table where someone had carefully laid out a display of Zedalis' bowling trophies, an 8-by-10 portrait and a photo album with images of Zedalis – dancing the polka, partying with friends and, of course, bowling, with some photos dating to the 1940s and '50s.
"Josie started bowling at the age of 14, but she came here when Leda Lanes first opened in 1959," he said. "And she's been here ever since. She cared about everybody. If someone didn't show up, she had to find out why. If they were sick, she'd make sure the person got a get-well card from the league.
"She organized the league Christmas party. She never wanted to miss a Monday."
"That's true," Tocci said. "In fact, once she felt she couldn't drive anymore because she'd been in an accident, people just stepped up and volunteered to drive her from Milford to Nashua and back every week."
That was a labor of love for next-door neighbors Cindy Nickerson and Darlene Gauthier, who would take turns driving Zedalis.
The two showed up at the event, even though they aren't bowlers, to share memories of Zedalis.
"She was something else," Gauthier said. "She was feisty. And she loved her bowling."
Nickerson nodded and said, "We remember the time when, after she hurt her knee, a doctor told her not to bowl, she begged me and begged me to give her a ride to Leda Lanes and promised she'd just watch and not bowl.
"So I dropped her off and she'd bowl a little here and a little there and finally she just played the whole game and tried to pay Darlene (Gauthier) a dollar to keep it a secret from me because she was afraid I wouldn't take her back."
The neighbors' memories of Zedalis extended beyond the bowling alley. She and her late husband, Joe, who also was a bowler, were ardent racing fans, and Ray Simoneau, one of the original owners of Leda Lanes, not only named his racehorse after Joe Zedalis, but often took the couple to the track and clubhouse at Rockingham Park.
"We once took her to Suffolk Downs, and she won so much money on one horse, she was able to pay off the loan on her mobile home," Gauthier recalled.
Leda Lanes was filled with such stories Saturday morning. Zedalis' son, also named Joe, traveled from the state of Washington for the event. He told the group he wanted his mother's memory to encourage other senior citizens "to get out of their house and into the community of the bowling alley – to find the long-term value of the bowling experience."
But a few of the family members might have missed his message. They were off bowling a few games of their own.
"Josie would have loved that," said 85-year-old Gladys Greenlaw, who just took up the pastime three years ago and bowled in Zedalis' league.