Friends, family cope after fatal crash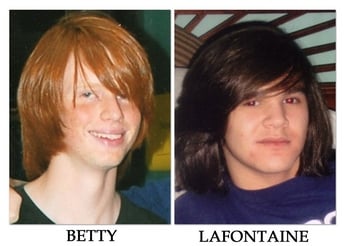 NEW BOSTON – The LaFontaine family's basement on West Street will never be the same: It served as headquarters for a group of high school friends shattered by a car accident Monday night.
Gage LaFontaine and Alex Betty, both 16, were killed Monday night on Route 13 in New Boston, just north of the Mont Vernon town line. The driver, 16-year-old Gino Olsen, remains in critical condition at Children's Hospital Boston.
The three Milford High School sophomores were good friends.
On Tuesday, two of Gage LaFontaine's brothers, Jacob and Cameron, and his cousin, Shawnee Saunders, remembered the way those three used to hang out and crack jokes in the LaFontaine basement.
"In all the times we hung out together in the basement, there was never a dull moment," said Cameron, who is 14 months younger than Gage.
The basement was where they told jokes and listened to music from rap to jam bands.
"You didn't need entertainment when you were with them," said Shawnee, 15.
Kyle Quinn, a friend who knew the three best from the skate park in Milford, remembered how they invited him to the LaFontaine home during the ice storm in December. No one had power or a place to go, so they lit candles and passed the time telling stories.
One of Gage's favorite activities was telling tall tales about the family.
New visitors to the basement would quickly learn a running gag about a "lost" LaFontaine brother named Acob. The joke started when Gage LaFontaine noticed there was a letter missing on Jacob's Easter basket.
Gage wasn't always a jokester. Until about 8th grade he was very shy, Jacob and Cameron said. They credit Olsen for breaking him out of his shell; before that he would just come home and watch cartoons.
"Gino brought out a side of Gage that was so nice to see," Cameron said.
All of the boys were enthused when Gino got his driver's license.
"Gino's car was their escape," Shawnee said.
Olsen works at the Milford Super Stop & Shop, manager Mike Howard said.
Betty was a lifelong Milford resident and he worked part time at Papa Gino's in Nashua.
Betty played baseball for the Milford Community Athletic Association and on the Milford High junior varsity team. Betty was an avid Red Sox, Celtics and Patriots fan and enjoyed skateboarding, water parks, amusement parks and especially loved roller coasters.
Gage was a hockey fanatic. He played for the Panthers Youth Hockey Association of Nashua and the Hollis Cavaliers Youth Hockey Association.
Jacob, now at Keene State, said he and his younger brother both played right wing. While Jacob said he had a gritty style on the ice, Gage would always try to make "fancy" plays.
"He would tell people he was the greatest, especially when it came to hockey," Jacob said.
The brothers would often joke that former National Hockey League great Pat LaFontaine was related to them.
"We'd say there goes uncle Pat," Jacob said.
The three sophomore's names have been posted on a memorial at the crash scene. Skid marks can still be seen leading to the trees.
The school district held counseling sessions Tuesday and Wednesday for students and parents who wish to speak with someone.
Funeral home visiting hours for LaFontaine are Thursday from 1-4 and 6-9 p.m., and visiting hours for Betty are Friday from 3-8 p.m. Both are at the Smith & Heald Funeral Home, 63 Elm St., Milford. Jacob says he's thankful for all the support his family has been given.