Friday's storm lasted longer than expected, and now we're getting another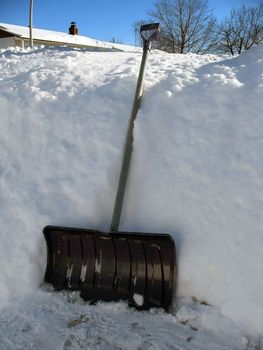 NASHUA – Get ready for another round of the white stuff today.
A snowstorm that began Friday and continued into Saturday dumped up to 8.5 inches of snow in areas of southern New Hampshire. A light snowfall continued through most of the day Saturday.
There will be little time to recover, as another blast of winter weather hits the region early this morning, continuing throughout the day and into the evening.
"The snow showers will quit for two to three hours and then will start right back up after midnight," said Eleanor Vallier-Talbot, a meteorologist with the National Weather Service in Taunton, Mass.
The two storms are considered separate events, and the National Weather Service has issued another winter storm watch for the area from 6 a.m.-10 p.m. today.
For what it's worth, winter begins at 7:04 a.m. today.
Vallier-Talbot said another 8-12 inches of snow is expected to fall in the Hillsborough County area today, with wind as strong as 15-20 mph and gusts as strong as 50 mph possible tonight.
Local police departments said Saturday that the snowstorm didn't cause any significant accidents or injuries, but did lead to a number of cars off the road.
Nashua declared its second snow emergency in three days, restricting parking on city streets from 7 a.m. today to 6 a.m. Monday.
Free parking will be available in the Elm Street and High Street garages during the snow emergency.
Meanwhile, thousands of homes and businesses are still without power because of this month's ice storm.
The state's Public Utilities Commission reported Saturday that 23,773 customers across New Hampshire were still without power.
The figure was as of 7 a.m. Saturday, and includes all of the state's service providers, including Public Service of New Hampshire, the state's largest provider of electricity.
That figure was down from 27,768 on Friday afternoon.
PSNH reported Saturday that 93 percent of its customers have power again, but cautioned that several regions remain hard hit. Crews will continue to work on restoring power to more homes, despite this weekend's snowstorms, PSNH said.
On Friday, PSNH released a special report that tried to answer questions about why the ice storm that slammed New Hampshire earlier this month led to 322,000 of its customers losing power.
Unexpected and unprecedented weather conditions hitting the most heavily populated parts of New Hampshire led to a record number of power outages, according to the report.
It listed three major factors that led to storm damage three times as bad as anything PSNH ever faced in 82 years of service:
The icy weather, while predicted by meteorologists, was more significant than forecasted, with more than 2 inches of precipitation received over a 12- to 24-hour period.
The area hit by freezing rain was uncommonly large, with the typical geographical band with the potential for freezing rain usually only 10-20 miles wide.
The freezing rain lasted longer and came in larger amounts than any other storm in recent memory. That led to branches and electrical equipment faltering under the weight of the ice, causing major power outages in a short period.
Several hours of persistent, heavy freezing rain hit the most densely populated southern parts of the state, while most of the northern region received sleet or snow.
Prior to this month, the largest outage PSNH experienced was in 1996, when 93,000 customers lost power.
PSNH also noted that its response to this month's ice storm was unprecedented, with power being restored to more than 250,000 customers in six days.