Freshmen get first taste of high school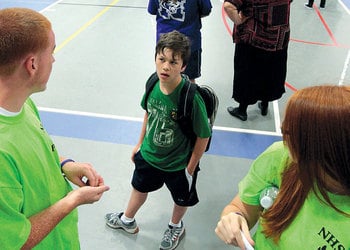 Brian Conley and Brittany Carmona didn't have to be in school Tuesday, but they both showed up.
The students, both seniors at Nashua High School South, were at school to help guide freshmen through the maze of hallways that make up the interior of the large school.
Tuesday was the first day of school for freshmen at both of the city's high schools. All other high school students start school today.
But many upperclassmen, like Conley and Carmona, were spending their last day of summer playing the role of tour guide and mentor, helping their new younger schoolmates acclimate to the high school environment.
"You guys know where you're going?" Conley asked as students walked by. Jesse Diaz, a freshman, came up to Conley and humbly asked for directions to room C-2001.
Conley pointed him in the right direction. Diaz admitted he was still getting accustomed to the large building.
"I got lost a little bit," he said.
Conley said he didn't mind coming to school Tuesday to help freshmen adjust. An important part of establishing community is welcoming new people, he said.
"We want to create a better school environment," he said.
Carmona said the younger students asked a lot of questions, like whether the teachers at the school were nice. When asked what she tells them, Carmona only said, "I tell them the truth."
Conley said seniors gave the freshmen tours of the building in the morning to help them get used to walking around the school. Conley said he had a little fun with his group, pointing them in the direction of the pool.
There is, of course, no pool in the building.
And apparently this particular group of freshmen wasn't buying it.
"No one believed me," Conley said, laughing.
Some first-day numbers
Carmona said transitioning to high school was especially difficult for her because she was coming from Nashua Catholic Regional Junior High School, not one of the public middle schools like most students.
"I didn't really know anyone," she said.
But Carmona said she was able to make friends quickly and, looking back, said she has enjoyed her time at South and is looking forward to her senior year.
At lunch at South, there was a disc jockey and an obstacle course. And the day ended with an assembly at both schools.
Janet Valuk, a teacher at South and the senior class adviser, said there would be a presentation at the assembly showing students what they can't wear to school.
Martin Zanichkowsky, a freshman who went to Fairgrounds Middle School last year, described the school as "overwhelming."
"It's just the size of it," he said.
At North, Principal David Ryan was on the grill, cooking hot dogs and hamburgers for the masses. He said he's impressed with the freshmen he's met so far and praised the upperclassmen that came out to help.
"These are kids who really care about their school," he said.
Students had set up booths to advertise their clubs in the hallways of the high schools. Michael Ortiz, a sophomore at South, was encouraging students to sign up for the Latino club.
There were about 1,000 freshmen in attendance between the two schools.
At the middle schools and elementary schools, Tuesday marked the first day for all students. Half of the kindergarten classes started Tuesday, and the other half will start today.
Around the rest of the district, things went well on the first day, said Ed Hendry, associate superintendent. District office staff visited schools throughout the day, he said.
"The impression we all had was that things were running very smoothly," he said. "Staff was energized in all of the buildings."
David Rauseo, director of transportation, said there were some delays, but said that is normal for the first day of school and there was nothing serious.
"When you're running something this size, it always takes a few days to work out the kinks," he said.
Paul Asbell, principal of Pennichuck Middle School, said there had been some concern about adapting to the new student information system. But things went well and the first day went off without a hitch, he said.
"We had a great first day of school," he said.