Fresh dishes from the silver screen served at Chunky's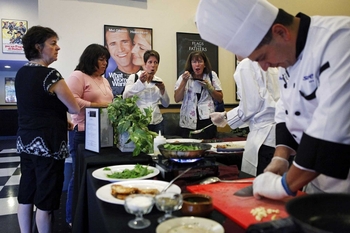 Debbie Hayes, Pam Smith, both of Pepperell, Mass., Sue Jackson, of Littleton, Mass., Shirley Smith, of Acton, Mass., and executive chef Al Soto, of Sodexo Food Services in Waltham, Mass., eat and prepare food before the showing of "Julie & Julia Live" on Wednesday at Chunky's Cinema Pub in Nashua.
The food sample promotion took recipes from the movie, which follows the lives of chef-writers Julie Powell and Julia Child, and served the dishes to customers. According to Chunky's general manager Ron Beimel, this was a precursor of what's to come on Chunky's menu as more items are added. On Wednesday, ladies night, the dish was roasted chicken with spinach.