Frequent flooding distresses city neighborhood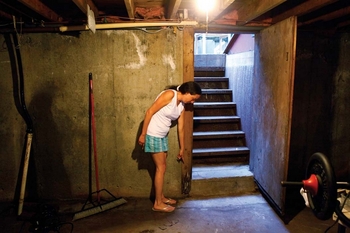 Standing by a pile of broken, moldy wood that used to form her finished basement, Holly Scribner said that as bad as things are for her and her family, they might be a lot worse for some of her Palisade Drive neighbors.
"Imagine those people who haven't done anything and who are sitting on this," Scribner said.
By that, she meant neighbors too old to do the work of ripping out a moldy floor and carting off ruined carpeting and furniture.
"Unfortunately, it's an elderly neighborhood, and I feel they're being taken advantage of," she said.
The more difficult question, though, is who is doing the taking.
Scribner, her husband, Scott, and three daughters have lived at 50 Palisade Drive for three years. Only in the past year has flooding been a problem, and it has gotten bad.
The family has had to run sump pumps 24 hours a day, seven days a week, she said. Her daughters, ages 13, 11, and 8, have shown signs of allergic reactions.
The water flooding her basement doesn't smell of sewage and appears to be groundwater, Scribner said.
Ashley Pushkarewicz, emergency services director of the N.H. Gateway Chapter of the American Red Cross, visited to provide information to the Scribners and others about mold cleanup and prevention.
Mold is caused by moisture, and the moisture is caused by water seeping – rapidly seeping at times – into basements. There is so much water that the street outside her home would flood in 45 minutes if she turned off her basement pumps, Holly Scribner said.
It's more difficult to say why there is so much more water now than in years past.
One reason, of course, is the extremely wet summer, which has followed another unusually wet summer. There also seems to be an issue of runoff from the parking lot at Dube Park, which abuts the back of Scribner's property and sits several feet higher in elevation.
City officials learned about the flooding on Palisade Drive several days ago after being contacted by residents.
"We are going to be looking into it to see if we had anything to do with that," city engineer Steve Dookran said. "We don't have any answers yet."
Salmon Brook runs nearby, and some in the neighborhood believe a spring runs beneath homes.
Edie Ouellette said she could tell how high the water table is by how cold her basement floor is when she walks across it.
Ouellette has lived on Palisade Drive since 1966, and like many other longtime residents, she has never seen flooding as bad as it is now.
She said she's burning out pumps, and the process of dealing with the flooding has been costly, adding she has spent $6,000 to date.
Sam Katsohis said he's lived on Palisade Drive since 1972. Although he has never seen flooding as bad as it has been recently, the neighborhood has long been plagued by a high water table, Katsohis said.
When he first moved here, he called the city's public works department several times. Each time he called, an employee came and pumped out the sewer lines, he said.
"One day when they were here, I asked an employee if there is a solution to our problem. His reply was that the neighborhood has a high water table because of the nearby brook and there isn't a solution to backage of water, especially when it rains hard and in the spring when it thaws out," Katsohis said.
"I accepted their answer and lived with the problem ever since," he said.
Katsohis said he doesn't have the physical ability to deal with mold in his home.
Another longtime Palisade Drive resident, Richard Francoeur, suspects recent development along Northeastern Boulevard has worsened the flooding.
Pushkarewicz contacted Richard Wood, the city fire marshal and emergency management director. Wood in turn contacted Heidi Peek, the city health officer and environmental health manager, who provided information about mold to Scribner.
While he hears from time to time about flooding and other issues, Wood said he hasn't heard similar complaints about issues related to a high water table.
Peek said she frequently hears complaints about mold. She has experienced the issue in her personal life in the past when her own basement flooded with 3 feet of water.
"I can't imagine what this summer must be like for those homeowners," Peek said.
A federal Environmental Protection Agency pamphlet that Peek distributed notes, "If you see or smell mold, you have a mold problem."
How big a health threat mold is depends on a person's sensitivity, Peek said.
"It can be quite dangerous for some people," she said.
The federal government doesn't issue guidelines on what types of mold, and how much, is considered dangerous, she said.
Meanwhile, Scribner and other residents are stuck waiting for answers from the city and seeing what, if anything, can be done about it.