Four firms honored for arts support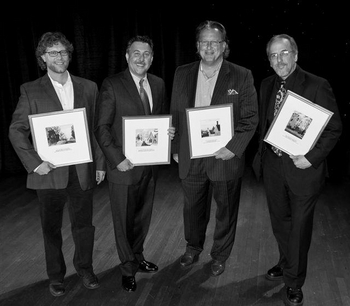 Margaritas Mexican Restaurant, Bellwether Community Credit Union, New Hampshire Magazine and Fin Brand Positioning were named winners of the Business in the Arts Awards at a May 16 gala in Manchester.
More than 235 people attended the event, which has been held annually for 27 years by the New Hampshire Business Committee for the Arts.The winners were honored for their outstanding support of the arts through donations of time, money and resources to the arts in their communities and statewide.Margaritas was lauded for its planning support as well as for providing all the food and décor for the Portsmouth Music and Arts Center's annual fundraiser.Bellwether Community Credit Union received accolades for making the arts a priority in greater Manchester, especially through its support of the Palace Theatre, and for "living their belief that the arts are the soul of their community."New Hampshire Magazine – a sister publication of NHBR – was cited for its support of artists and cultural organizations in their publication, especially for the creation of the New Hampshire Theatre Awards and for establishing a network for and about professional and community theater statewide.Fin Brand Positioning was credited with creating the design and branding of the Portsmouth Museum of Art and for developing the successful campaign for the final 2010 exhibition.Each winner received a framed painting by New Hampshire artist Melissa Miller of Concord. The Sharon Arts Center provided the table centerpieces. The ArtsBags Cultural Trivia Show highlighted the evening's sponsors and contained cultural goodies of tickets, T-shirts, posters and books contributed by New Hampshire's many cultural organizations.The grand prize was donated by Wentworth-by-the-Sea.Kevin Flynn, journalist and author, was master of ceremonies for the event. The evening's performance showcase included a performance by the Manchester Community Music School faculty trio Infinities, author Howard Mansfield, "The Impossible Dream" scene from "Man of La Mancha," performed by the Seacoast Repertory Theatre and the barbershop quartet Breakaway.Corporate sponsors were Bank of America, Citizens Bank, Dartmouth-Hitchcock, Hypertherm, Lincoln Financial Group, Northeast Delta Dental, People's United Bank, Public Service of New Hampshire, RiverStone Resources and the Winthrop Charitable Gift Fund. TD Charitable Foundation was the event underwriter.Event supporters were Concord Hospital, The Duprey Companies, Hitchiner Manufacturing Company, Lavallee Brensinger Architects, McLane Law Firm RMC Research Corp. and Stibler Associates.The New Hampshire Business Committee for the Arts, which presents the awards annually to recognize and honor outstanding business support of the arts, was founded to educate, motivate and recognize business support of and participation in the arts.