Forum gives N.H. exporters encouragement, advice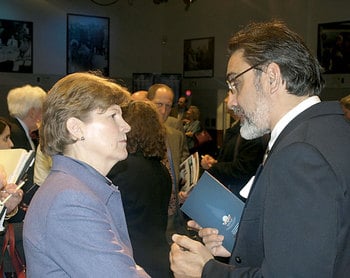 For Thomas Blais, president of Rochester-based Rokon International Inc., the ability to export his New Hampshire-made motorcycles depends on a vital local link.Yet that link, the New Hampshire International Trade Resource Center, needs more funding, Blais told a panel of representatives from federal and state agencies at the Granite State Export Forum last month."For a company like Rokon, what the center does is like a department of Rokon — it's so valuable," he said. U.S. Sen. Jeanne Shaheen hosted the March 31 forum at the New Hampshire Institute of Politics at St. Anselm College in Goffstown. Panelists included representatives of the U.S. Department of Commerce, the U.S. Export-Import Bank, and the U.S. Small Business Administration.The forum's goal, Shaheen said, was to break through some of the barriers that export-minded small-business owners can find daunting."I'm passionate about getting more New Hampshire companies to sell your great goods and services to customers around the world," Shaheen said. "More exports abroad means more jobs at home." Shaheen said she is particularly hopeful that the state's businesses will find opportunities in alternative energy and energy-efficiency technology.There is tremendous potential for growth in U.S. exports, Shaheen said. It's the silver lining behind the bad news, which is that domestic consumer spending is not expected to return to pre-recession levels, she said."Over 95 percent of the world's customers live outside of the United States, but the vast majority of American businesses don't export, and less than 1 percent of small businesses export," Shaheen said. "Emerging markets in developing countries like China, India and Brazil offer really exciting new opportunities for us."Yet the United States has fallen behind China and Germany when it comes to exporting, the senator said.This January, New Hampshire exporters ranked 13th in export growth among the 50 states, according to Evangelos Simos of e-forecasting.com and the University of New Hampshire's Whittemore School of Business and Economics. In January, the state's exporters sold $362.8 million abroad — the second highest monthly exports mark recorded, according to Simos, who also writes a monthly column on international trade for NHBR.Two success stories are Sky-Skan Inc. of Nashua, which recently received the SBA's 2010 New Hampshire Small Business Exporter of the Year award. Sky-Skan makes full dome digital planetarium and media systems and sells to more than 120 countries.Dartware LLC of West Lebanon has been recognized for its success in exporting after participating in business promotion programs of the U.S. Commercial Service, the trade promotion arm of the U.S. Department of Commerce's International Trade Administration. The company produces a line of software focusing on network management solutions and has expanded its business to countries such as Canada, Saudi Arabia, Turkey and Hong Kong.
Local linkThomas Blais's company, Rokon, manufactures all-wheel drive motorcycles and exports about 35 percent of its products. But, he said, state funding for export assistance has declined because of hard budgetary times.The New Hampshire International Trade Resource Center, which helps connect businesses to state, federal and private sector trade programs and services, has had to leave two positions vacant. Trade missions are on hold because of a travel freeze in state government.Blais said he'd like to see the federal government help the state get funding flowing again for these export services.Shaheen, meanwhile, said she is working on legislation that would offer competitive grants for agencies such as the International Trade Resource Center. She also has co-sponsored legislation to ensure the Overseas Private Investment Corp. (OPIC) dedicates resources to help small companies export.The percentage of New Hampshire exporters that are small and mid-sized enterprises is about double the national average, according to Dawn Wivell, director of the International Trade Resource Center."We deal with every imaginable kind of strategic development, whether you're new to exporting, or want to expand your exporting, that's pretty much our bread and butter," Wivell said.The center also helps businesses navigate elaborate compliance issues.ITAR, or International Traffic in Arms Regulations, was on the minds of several businesses at the forum, including Perry C. Rucker of Astronics Luminescent Systems Inc. of Lebanon. The company makes aerospace lighting for both military and commercial markets.But the paperwork and cost of complying with ITAR, he said, was causing one of the company's major European customers to avoid doing business with American companies."I think there needs to be a more discerning eye as to what products really constitute a national security threat if fallen into unfriendly hands, as opposed to what is just a benign product," he said.Officials said such concerns had been heard in Washington, D.C., and revisions to export controls were expected some time this spring.President Obama's recently unveiled National Export Initiative aims to double U.S. exports in five years. Several on the panel said the initiative promises to enhance their budgets and bring overdue attention to exporting.The U.S. Export-Import Bank is at the center of the initiative, said Bruce Drossman, the bank's Northeast and Mid-Atlantic business development officer."In dollar terms, our charter requires that at least 20 percent of our authorizations are devoted to small business, and we want to keep increasing that level, not just hit the minimum mark," said Drossman.Leonardo Clavijo of Goss International Americas Inc., which has a plant in Durham, said his company's clients had received an $18 million loan from the bank for buying Goss's printing equipment. That helped save about 200 Goss jobs, he said.Jenny Houston of Warwick Mills in New Ipswich encouraged the audience to take advantage of such resources. But, she said, success also depends on some basic things."It's all about relationships. You have to show up often, because it takes many times of travel for them to be able to say, 'Yes, we have a relationship, and let's do business,'" she said.Warwick makes protective textiles used in body armor and sells extensively overseas. Houston said visits during troubled economic times are especially important."They will remember, and when they can place orders, they will," she said.