Former Sox GM wants to bring his winning ways to Defenders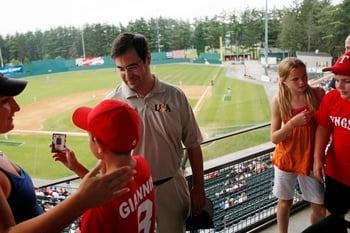 NASHUA – It's only 47 miles from Holman Stadium to Fenway Park, but it's a world of difference for Dan Duquette.
Once the general manager of the Red Sox, Duquette's current title may not hold as much prestige, but it's a lot more local: part-owner, president and director of player development for the Nashua-based American Defenders of New Hampshire baseball team.
Duquette, who many consider a prime architect of the Boston's 2004 World Series Championship team, said Friday he is facing some adversity in his new position, both on and off the field.
"This has been very challenging," he said. "And one of the reasons it's been challenging is that our pitching isn't up to grade. We have made some incremental gains, though."
While his starting pitching has been disappointing, off the diamond, the team has been struggling financially. The Defenders are ranked last in the Can-Am League in attendance and are averaging just two-thirds of what the Pride drew per game last year.
On Thursday, the team said its outstanding $50,000 rent to the city was caused by a clerical error, and that it would be paid shortly.
All that said, Duquette said the team would love to stay in Nashua, but the future of the club hinges on receiving more community support.
"We were hoping to make a stronger connection with the community and that hasn't happened," Duquette said. "The stadium is charming. We would like to succeed here in Nashua but only if we get the support of the community."
"All teams need to connect with the community in a meaningful way," he said.
When asked why that connection hasn't yet formed, Duquette seamed miffed.
"We've tried," he said. "And we're going to continue to try."
During home games, fans can find Duquette walking the stadium grounds, making sure everything's running smoothly. During Friday's game against the Brockon Rox, it was a hot, muggy day, so he decided to ready crates of soda and water to be sold to the spectators. Then it was up to the luxury boxes to greet fans, pose for pictures and talk baseball.
"Hey Dan," a fan said. "What do you think about Wakefield making the All-Star team?"
"I think it's great," said Duquette, who originally brought the veteran knuckleballer to Boston in 1995. "Good for him."
He then bid adieu and headed towards the box that a Cal Ripken League baseball team from Tyngsborough, Mass., was using for the game.
"That's Dan Duquette," a woman in the adjacent box told her daughter. "He used to be the general manager for the Red Sox."
Duquette thanked the people for coming to the game and asked their children if they got a picture with the team's mascot, Cammy the Catcher.
Duquette, who is living in Stow, Mass., also owns and runs the Dan Duquette Sports Academy in Hinsdale, Mass., which houses summer camps, weekend tournaments and one of his other teams, the U.S. Military All-Stars.
Even though he was fired in 2002 and his name may now have a negative connotation for some Sox fans, Duquette's fingerprints are all over the team that finally won Boston their first World Series in 86 years.
Pedro Martinez? Duquette traded for him in 1997. Manny Ramirez, Johnny Damon, Tim Wakefield? All Duquette guys. And don't forget the trade that netted the Red Sox Derek Lowe and future captain Jason Varitek for reliever Heathcliff Slocomb. How's that one working out? Even current Boston slugger Kevin Youkilis was drafted by Duquette.
But perhaps the thing Duquette is most often associated with is not a trade he made or a player he signed, but rather a player he let go.
The year was 1996. Pitcher Roger Clemens had just gone 10-13 with a 3.63 ERA. From 1993-96, Clemens compiled a 40-39 record. Not bad, but "The Rocket" seemed to have lost a little off his fastball. Duquette, sensing Clemens was on the downside of his career, allowed the former ace to take a four-year, $40 million deal with the Toronto Blue Jays. Duquette's explanation, that Clemens was in the "twilight of his career," will live in baseball infamy.
Clemens went on to win four more Cy Young Awards, given to the best pitcher in the league, and two World Series titles with the archrival New York Yankees. Duquette, on the other hand, has been laughed at and vilified ever since.
Fast-forward to today and Clemens is under investigation for using performance-enhancing drugs. All of a sudden, people are questioning if Duquette's analysis of Clemens' career longevity was more accurate than it appeared before the steroid allegations.
"I've been following it very closely," Duquette said.
When asked about what he thought peoples' reactions were when they heard the news that Clemens may have used steroids, he nodded his head, and said simply, "Duquette was right."
He said he still keeps in contact with some of the people he worked with in Major League Baseball, and that he would like to get back to the league at some point.
Whether he gets back to the majors or not, for Duquette, his future, at least for now, is right here in Nashua.