Former mayor plays host to kids in summer program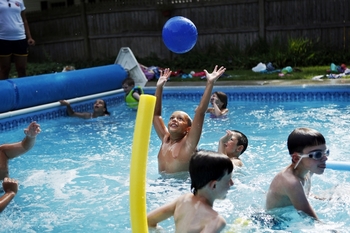 Fifty-two boisterous children splashing in a former mayor's backyard pool begged the question: Which is more unruly, the kids or the city's Board of Aldermen?
Bernie Streeter didn't hesitate.
"Oh, the Board of Aldermen," the former mayor said, and then paused to qualify his answer.
"Well, certain members of the board. The majority of the board was very well behaved. But a few I wouldn't invite to my next lawn party," Streeter said.
The kids will be invited back next Friday, and then a string of Fridays after that.
Children from the Salvation Army's summer program will enjoy a swim in the pool through the generosity of Streeter, a member of the church's board of directors.
"These are tough times. We had no place to take the children swimming this year," said Maj. Carl Carvill, who heads the Nashua chapter. "So Bernie and Sally have generously opened their home – at least their backyard – for the kids."
Sally Campbell is Streeter's fiancee. The couple will marry Sept. 12.
In previous summers, the kids in the summer program were bussed to Silver Lake State Park in Hollis to swim. But the Salvation Army couldn't afford the roughly $2,000 yearly cost, said Tom Jenkins, chairman of the board of directors.
Streeter agreed "with open arms" to host the weekly swims, said Jenkins, who himself hosts a backyard cookout at the end of the summer program.
Staff members drove the children to the Streeter home via several trips with the 12-seat Salvation Army van, saving on the bussing costs.
The summer program, rather than just being a day camp, has a strong educational component, Carvill said. This week the focus was on science, with the program participants building catapults, he said.
"These are great kids," Streeter said.
Carvill noted that many are from working families struggling to make ends meet.
"Some of them have to make the choice between staying home with the children and working to try to build a better life. But the kids need a safe, secure environment," Carvill said.
"Children are God's greatest gift," Carvill said, noting that the Salvation Army is honored and fortunate that parents trusted the summer program participants in its care.
Staff members from the program helped watch the kids and served as lifeguards during the swim. As the children exited the pool for a watermelon snack, Nicole Lewis chatted about the difference between Streeter's pool and the pond at Silver Lake.
"They absolutely love it," Lewis, a counselor and Keene State University student, said of the pool. "This is a huge improvement."
One girl chirped up, "Yeah, the lake has sharp and pointy things on the ground."